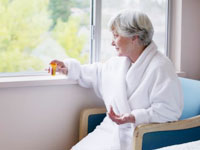 (ANDERSON ROSS/VEER)
Antidepressant medication
and
counseling
seem to work better together than either alone for depressed geriatric patients. Unfortunately depressed seniors rarely get the treatment they need.
Only half of older adults with mental health problems receive treatment from any provider (over half of those get it from their primary care physician). Only 3% of seniors with mental health problems get treatment from a mental health professional. But untreated depression increases an elderly person's risk of death, according to Burton V. Reifler, MD, a professor of psychiatry at Wake Forest University.
Why the elderly are undertreated
Explanations for why older people are underserved vary. According to the American Association for Geriatric Psychiatry, they include the following.
Stigma and a denial of problems by the patient
Access barriers, especially for people with mobility issues
Lack of collaboration and coordination between mental health professionals and other service providers
A shortage of geriatric psychiatrists and psychologists
Financial barriers, as older patients on a fixed income may not be able to afford antidepressants