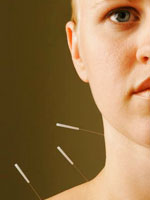 (CHRISTINE MARINER/DESIGN PICS/CORBIS)
More breast cancer patients than ever are turning to complementary therapies (also called integrative or alternative medicine), ranging from dietary changes and acupuncture to massage and guided imagery techniques. More than 80% of cancer patients overall have tried it, by one count, whether to supplement their prescribed cancer treatment or to ease the side effects of treatment or the symptoms of the disease itself.
The benefits vary widely and few are backed by solid science (established Eastern medicine treatments have track records, of course, though not always specific to breast cancer). But for many cancer sufferers, a psychological benefit is clear. "Integrative medicine allows women to take a bit of control over their care and feel they have some control over what's going on in their bodies when they can't control chemo or radiation," says Janine E. Gauthier, PhD, director of clinical services at the cancer integrative medicine program at Rush University Medical Center in Chicago.
Look before you leap
Often, it takes digging and some trial and error before a woman finds an approach that works for her. Be sure to use common sense as you evaluate a potential therapy—and a potential therapist—cautions Gauthier. "Especially when patients are diagnosed with a serious illness like cancer, it can make them quite vulnerable to a host of charlatans that will offer everything under the sun and tell them they can cure their cancer."