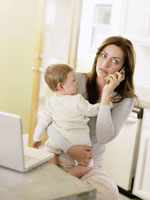 (LAURA DOSS/CORBIS)
Stigma
, disbelief, and lack of support from others keeps women who have postpartum depression from getting the treatment they desperately need.
One of the surprises of childbirth is how much preparation you get—childbirth class, parenting lessons, breast-feeding training, how to "childproof" your home, even classes on installing a car seat correctly and securing your baby inside.
But as birth approaches, it's rare for anyone to offer a forecast of the emotional turmoil ahead—except on the fatigue front—and rarer to hear a postdelivery woman asked how she is faring emotionally.
More About Postpartum Depression
"Most ob-gyns are done with you after your six-week postpartum checkup," says Ruta Nonacs, MD, associate director of the Center for Women's Health at Massachusetts General Hospital in Boston. As for treating postpartum depression, she says, "many feel out of their league."
"I was quite suicidal"
Until recently, help has been hard to find, even for women who pleaded for support. Psychologist Shoshana Bennett, PhD, founder and director of
Postpartum Assistance for Mothers
, endured two life-threatening postpartum depressions in the mid-1980s. Bennett's horrific experiences inspired her to get licensed as a therapist and specialize in postpartum depression. She has now counseled more than 15,000 women with the condition.
"I was quite suicidal. My doctor told me to go and get my nails done," she says. So she plowed ahead. What made her situation even worse was an unsupportive mother-in-law, who had been a postpartum nurse for 30 years. "She popped out five kids without so much as the baby blues, so when my husband, Henry, asked her, 'What's wrong with Shoshi?' she said, 'She's spoiled. It's not just about her anymore,'" Bennett says. "He was angry and confused and upset with me. But I hated me too." After her first child was born, Bennett plummeted and went to her ob-gyn for help. "I walked in 40 pounds overweight and told him, 'If life's gonna be like this, I don't wanna be here.' He laughed and said that all women go through this."