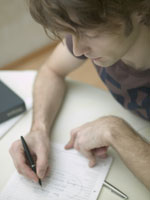 (HAENSEL/ZEFA/CORBIS)
Many patients with disabling depression have no appetite for sitting on a couch recounting childhood traumas or last night's dreams for months—or years—before they start to feel better.
Antidepressants
may help in such cases, but even if they do, when patients stop taking them there's a good chance they'll end up back at square one.
One alternative, cognitive-behavioral therapy (CBT), an umbrella term that includes several related talk therapy techniques (including cognitive therapy), offers hope. Studies suggest it offers relatively fast, effective, and lasting treatment. The concept underlying CBT is that, in many cases, depression is primarily caused by negative ways of thinking about oneself and the world, not necessarily by life circumstances or biochemistry.