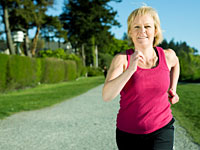 (ISTOCKPHOTO)
About eight out of every 10 people with type 2 diabetes are overweight or obese, and excess weight—particularly around the
belly
—is a major cause of type 2 diabetes.
Some people can even "cure" the disease with massive weight loss (including
bariatric surgery
).
However, the relationship between weight and type 2 diabetes is a tricky one.
Complex relationship between genes, weight, and diabetes
An
unexplained weight loss
is sometimes a sign that's something wrong. So when you are finally diagnosed and treated you may actually
gain
weight.
In addition, it's not clear if extra weight causes diabetes, or if some underlying genetic component contributes to both. "A lot of folks who are overweight and who are sedentary won't get diabetes. So there's an important genetic contribution to developing diabetes that's out of people's control," says William Bornstein, MD, an endocrinologist at the Emory Clinic in Atlanta. "Secondly, it may be actually harder for folks with diabetes to lose weight, that that may be part of the disease as well."
Certain diabetes drugs, such as sulfonylureas, thiazolidinediones, meglitinides, and insulin, are associated with weight gain, too. However, the blood-sugar-lowering benefits of these drugs outweigh the risks of gaining weight. (Others, such as Byetta and metformin, may result in weight loss).
While it may feel like the deck is stacked against you—particularly if you've lost and regained weight in the past—you should still make an all-out effort to shed excess pounds. Now that you have type 2 diabetes, the goal isn't to get back into your high school jeans, but to prevent heart attacks, save your vision, and avoid amputations.