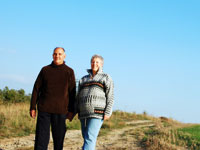 (ISTOCKPHOTO)
You may consider exercise a nuisance, a chore, or simply a bore. But if you've been diagnosed with type 2 diabetes, you need to look at physical activity in a whole new light. Now it's a tool. Just like taking a drug or altering your diet, exercise can lower blood sugar on its own, even if you don't lose weight.
"Exercising is the most underused treatment and it's so, so powerful," said Sharon Movsas, RD, a diabetes nutrition specialist at the Clinical Diabetes Center at Montefiore Medical Center in New York City.
For most people with diabetes, exercise is a safe and highly recommended way to reduce the risk of complications. However, check with your doctor to make sure you don't have heart problems, nerve damage, or other issues that need
special consideration
when you are working out.
How exercise affects blood sugar
In general, blood sugar drops after exercise and is lower for the next 24 to 48 hours, says Movsas. "If I take a blood sugar reading after aqua-aerobics, I usually notice it's down," says David Mair, 79, of Marquette, Mich.
When you exercise, your muscles become more sensitive to insulin and absorb more glucose from the blood. However, like many aspects of type 2 diabetes, the response can be highly personal. Exercise can sometimes
boost blood sugar
. At first, you'll need to test your blood sugar before, after, and sometimes during exercise, to see how your body responds).
Exercise also helps lower blood pressure—an important benefit since high blood pressure can contribute to heart attacks, strokes, eye problems, kidney failure, and other type 2 diabetes complications.