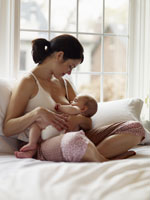 (LWA-DANN TARDIFF/CORBIS)
Emerging research on postpartum depression is clear:
Antidepressants
such as Prozac work, and they're considered fairly safe, even for breast-feeding mothers. But half of all new mothers with postpartum depression are reluctant to take drugs because they fear medication transmitted through breast milk could harm their babies. Antidepressants are an effective treatment, but they leave
breast-feeding
women with a tough choice.
I was afraid of drugs
"Looking back, I probably should have gone on antidepressants the first time," says Amy Sky, 47, of Toronto, who had severe postpartum depression after giving birth to each of her two children. "I didn't know what they would do to the baby. I was completely afraid of drugs. I was afraid of aspirin."
Those who haven't given birth can't comprehend the pressure new moms feel to breast-feed. The "breast is best"
campaign
is promulgated by well-meaning public health advocates to educate women that breast milk is vital for their new baby's immunity, general health, and ability to bond.
This makes many women with postpartum depression feel they are in a no-win situation. "Women with postpartum depression avoid medication because they think they'll need to stop nursing. Nursing is not out of question at all for women taking SSRI antidepressants," says Ruta Nonacs, MD, associate director of the Center for Women's Health at Massachusetts General Hospital in Boston. "They're very safe, and the risk to the infant is very, very small," she says.