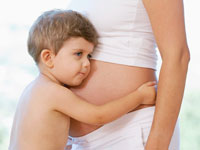 (MASTERFILE)
Women who've had one episode of postpartum depression have a 50% risk of getting depression again with a subsequent pregnancy, says Ruta Nonacs, MD, associate director of the Center for Women's Health at Massachusetts General Hospital in Boston. You and your doctor need to keep this condition on the radar if you decide to get pregnant again. Also keep in mind that your risk of
depression
, even if you're not pregnant, is higher than normal.
She felt gypped out of motherhood
Katherine Stone
, 38, of Atlanta, elected to stay on her medication between pregnancies.
Approach a second pregnancy with your eyes wide open and remember that it's almost never as bad the second time as it is the first.
—Ruta Nonacs, MD, Psychiatrist
When she found out that she was pregnant a second time, she actually enrolled in a study of women with pregnancy-related mood disorders.
Stone was on medications during her entire pregnancy and had careful monitoring. "This time it was a 180-degree difference. I realized that I'd been gypped the first time. This was what it's really supposed to feel like to have a baby," she recalls.