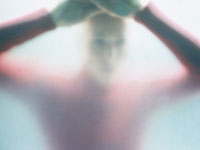 (SATCHAN/SEFA/CORBIS)
When
psychiatrists
and
psychologists
test people for depression, they ask, Do you feel sad, blue, unhappy, or down in the dumps? Do you feel tired, low on energy, unable to concentrate? Too many yeses gets you a diagnosis.
People with depression have a much richer vocabulary for describing their anguish, one that rarely matches the clinical observations.
When hell feels normal
Many describe a heaviness and difficulty getting out of bed. When Jennisse Peatick, 36, of Hillsborough, N.J., gets down, "I am in the bottom of a well and it is a very gray cloudy day and I am looking up at this insurmountable cloudy day and I can't climb out," she says. "It is silent and very isolating."
Watch
one patient describe his experience.
For patients like Terrie Williams, 53, of New York City, depression sneaks up so gradually it starts to feel normal. She had launched a high-profile public relations company that counted Eddie Murphy and Anita Baker among its clients. She organized exciting red carpet events and attended glamorous parties, but she'd fall into bed utterly exhausted. "Mornings were hell," she says.
Mulling Over Suicide

But after a while hell started to feel almost normal, she explains: "I would wake up with an overwhelming sense of dread and anxiety. I would lay there for hours, sometimes in a fetal position, crying. I would pull a sheet over my head."
Williams didn't realize it, but her feelings and behavior were classic
signs
of depression. "I would get a burst of energy and check my voice mail and respond. Then I would go back to bed."