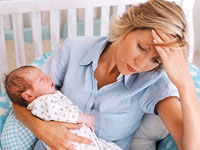 (ACCUSOFT/VEER)
Women who have postpartum depression feel a triple whammy of the
stigma
reserved for people with mental illnesses. Not only are they brought down by what many expect to be the happiest event in a woman's life—the birth of a child—but also total honesty about their emotional state could invite scorn or even a visit from social services. Crippling sleep deprivation and the isolation of being home with a newborn compound the problem.
Wounds no one can see
When
Katherine Stone
, 38, of Atlanta, had images of her baby son drowning in the bathtub or being smothered on his burp cloth, she feared for her sanity. But she kept it from her husband as long as she could. Six years later the mother of two still feels judged for taking antidepressants for postpartum depression, and she believes there is a common misperception that depressed mothers are self-centered and weak.
"We're suffering from an illness that cannot be seen," Stone says. "We don't have a fever, swelling, vomiting, or diarrhea. No open wounds that will not heal—at least not the kind you can see with the naked eye. So, many wonder if we're really sick at all."
Postpartum Depression Risk

More about postpartum depression
The U.S. Department of Health and Human Services estimates that as many as 12.5%, or 1 in 8 new moms experiences depression severe enough to disrupt the mother-infant bond. Postpartum depression, which can last more than a year, can have profound effects on a new or growing family. Mothers with postpartum depression are less likely to read to or play with their babies, and some studies suggest children of depressed mothers have slower mental and motor development, poor temperament, lower self-esteem, and more behavioral problems than children of moms without the condition.