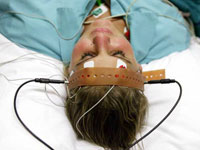 (LEVIEN WILLEMSE)
If your doctor suggests electroconvulsive therapy, or ECT, for you or a loved one, forget the movie
One Flew Over the Cuckoo's Nest
and the lobotomizing stereotype of shock therapy. Today ECT is far safer and more precise than in the past. For some people with severe depression, it may even be the most effective form of therapy, not merely a treatment of last resort.
During ECT, patients receive a series of electrical currents to the brain that induce a 30- to 60-second generalized seizure. Patients are under general anesthesia. The anesthesia may contribute to the short-term memory loss patients experience after ECT.
Changing perceptions based on evidence
"Ten years ago I would have to broach ECT with patients," says Corey Greenwald, MD, a psychiatrist in Atlanta who performs many ECT procedures per year. "Today people are broaching it with me."
These changing perceptions are in part due to a series of positive studies in recent years. In one, 78% of 283 severely depressed people reported a significant reduction of symptoms and a better quality of life six months after ECT.
While only some of those patients experienced complete remission, they were all measurably better off.
"Electroconvulsive therapy remains one of the most effective treatments we have to treat depression," says Mark Frye, MD, director of the Mood Disorder Program at the Mayo Clinic, in Rochester, Minn. "Response rates for ECT are consistently higher than response rates generally reported in clinical trials for antidepressant medications. This observation is doubly impressive knowing that patients who today receive ECT typically have failed two or more antidepressant medication trials."