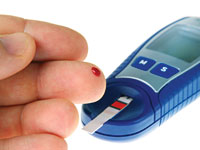 (SERGEY LAVRENTEV/ISTOCKPHOTO)
Blood sugar is a tricky little beast. Yes, you can get a high reading if you throw caution to the wind and eat several slices of cake at a wedding.
The problem is that you can also have a high blood sugar reading if you follow every rule in the type 2 diabetes handbook.
That's because it's not just food that affects blood sugar. You could have a cold coming on, or stress may have temporarily boosted your blood sugar.
The reading could be wrong, and you need to repeat it. Or it could mean that your medicine is no longer working, and it's time to try a new one.
The point is, it's the
pattern
that matters, not a single reading.
Whatever you do, don't feel bad or guilty if you have a high blood sugar reading.
This can cause some people to give up on testing completely. Try not to think of blood sugar monitoring as a "test" administered by a sour-faced teacher lurking in your distant past. Blood sugar monitoring is simply a tool that you can use to fight the disease.