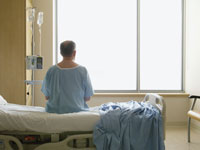 (VEER)
Heart attack survivors can expect to have four or five days of bed rest in the hospital and a week resting at home.
Next comes recovery, a process that can last weeks, months, or the rest of your life. The risk of death or cardiac arrest is highest during the first 30 days of recovery after a heart attack.
Aggressive Heart Targets

Who recovers the quickest?
Patients who were relatively young and healthy before their attack tend to regain strength more quickly than others. People who had minor heart attacks are also likely to fare well in the long term, especially with prompt treatment. In contrast, patients who lose large chunks of heart muscle may never regain anything close to their previous health.
Being obese is a major risk factor for death after heart attack. In a
study
of nearly 2,000 patients recovering from a heart attack, obese patients were nearly 50% more likely to die within four years. And for people who were already chronically ill with diabetes, cancer, or another serious illness, a heart attack can be a devastating blow that leaves them permanently disabled.