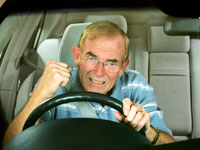 (BRETT MULCAHY/ISTOCKPHOTO)
Paul Tasner, 62, of Greenbrae, Calif., is determined to skirt the risk factors that could trigger a
heart attack
. He shuns tobacco in any form (the cardinal rule for preventing cardiac problems), rides an exercise bike or walks every day, and eats a mostly vegetarian diet.
But some of his habits and a family history of heart disease could cancel out his efforts. He has
high cholesterol
and a high-pressure job at a home products company. And being male and just over 60 puts him in prime heart attack territory from an epidemiological standpoint.
A Heart Attack Is a Race Against Time

Below we outline nine factors that may put people at risk specifically for heart attack, not just heart disease. Some—such as the link between calcium supplements and heart attacks in older women—are far from definitive. But this lists reinforces the idea that the heart can be put at risk by more factors than the dietary fat, obesity, and smoking that share the majority of the blame.
Low good cholesterol
A study of nearly 7,000 people led by a researcher at Indiana University analyzed the relationship between HDL, or good cholesterol, and major coronary events. The study concluded that low HDL was the third strongest predictor of coronary events, after prior heart disease and age.