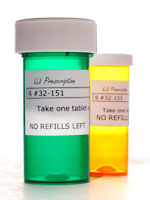 (ISTOCKPHOTO)
If you and your doctor are not satisfied with the amount of improvement you've had while on an
antidepressant
, you're not alone. In a three-month
study
of 4,000 depression patients, at least half didn't get complete relief from the first antidepressant they tried.
Doctors talk about a "response" to an antidepressant, which means at least some improvement, and "remission," which means that the symptoms go away altogether. For most people, remission is a realistic goal. If one antidepressant doesn't do the trick, your doctor may consider the following options.
Increasing the dose of the antidepressant you're on
Continuing at the same dose and adding a second drug: either another antidepressant (combination therapy) or add another type of drug (augmentation therapy)
Switching, which involves gradually stopping the first drug and starting a second
Starting psychotherapy, if you're not already attending sessions
Bad Depression Drug Reaction

Learn more about antidepressants
When to switch antidepressants
"My hope for every patient is that major depression remits as soon as possible with few side effects," says George I. Papakostas, MD, an assistant professor of psychiatry at Harvard Medical School.
The three factors listed below go into his decision to call it quits with a particular drug or to continue using it and add something else.
Tolerability: How severe are the side effects, and how much trouble are they causing?
Time: How long have you been on medication?
Degree of improvement: Have the depression symptoms improved in proportion to how long you've been on medication?
If you've had only a slight improvement in symptoms but the side effects are burdensome, your doctor will switch you to something else altogether. Your doctor may also recommend a total switch if you're experiencing little or no improvement, even if side effects aren't a problem.
Dr. Papakostas says most psychiatrists agree that if an SSRI hasn't worked for you, switching to an atypical antidepressant—Wellbutrin, Cymbalta, Remeron, or Effexor—may be a good idea.