When seeking out a new doctor, there's still no substitute for the old-fashioned method of asking people you know and trust—in the case of breast cancer, starting with your gynecologist, internist, family care physician, the radiologist who did your mammograms, and the nurses you've met along the way. Take it from a nurse of 15 years: "What other staff say about doctors is pretty important," says Georgette Williams, 44, of Elysburg, Pa., who was herself diagnosed with stage IIB breast cancer in September 2007.
Here's what else you should look for in a doctor:
1. Experience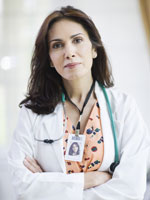 (RICK GOMEZ/CORBIS)
Choose doctors with significant experience
treating breast cancer
. (This assumes, of course, that your geographical, financial, and insurance situations allow you to be choosy). Your physician should also ideally be a member of the
American Society of Clinical Oncology
(check out ASCO's excellent site for patients,
Cancer.net
) and in good standing with your local/state medical board or society. (There is no subspecialty within the field of medical oncology for board certification in breast oncology, however.) Your doctor should be on staff at a quality hospital accredited by the
Joint Commission
, though you don't necessarily need to be seen at a comprehensive cancer center to get excellent care and advice. (For a list of National Cancer Institute–designated cancer centers and comprehensive cancer centers, go to
cancercenters.cancer.gov
.)
2. Compatibility
You and your doctor don't need to be best friends, but if you don't get along, your care may suffer—especially if he or she doesn't listen to your concerns. Your doctor or doctors should also be open to your
getting a second opinion
; this is standard, not an insult.