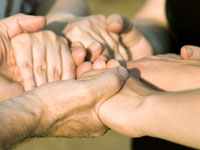 (ISTOCKPHOTO)
Joining a community of people with diabetes—either an online or in-person version—can provide you with a rich source of encouragement and information. Members can help you solve problems, suggest questions for your next doctor's visit, and get you through tough times.
How one man found help online
Paul Shirley felt better after being diagnosed with type 2 diabetes in December 2006. For years he'd been battling sinus infections and fatigue, which he now knows were issues related to the diabetes.
He changed his diet and started taking medication. Then he aggravated an old shoulder injury, which required surgery and physical therapy. He started feeling terrible again and had difficulty controlling his blood sugar.
Support Group

The 56-year-old Easley, S.C., resident wondered if it could be related to his injury. So he asked the members of a diabetes-related email group. Of course, they said: Being
sick or injured
can throw off your blood sugar.
"You can't go to your doctor or even your diabetes educator every time you have a question. But you can go on this list, and people are glad to talk to you about it," he says. Although the support group members aren't experts, their "friendly, experienced" advice is sometimes all the help he needs.
Shirley, who's working on his doctorate in psychology, notes that some people in online groups may argue or push unwanted advice on you. In that case, it's best to ignore them or privately email the moderator, the person responsible for maintaining order on the discussion board or email list.
To find an online discussion board or email list, check out the
American Diabetes Association
,
dLife
, or
Diabetes Talkfest
.