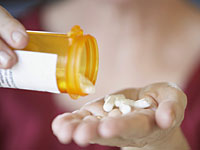 (GETTY IMAGES)
Antidepressant medications
such as Prozac and Zoloft are so popular they're
advertised
on television. But the same drug that gives your co-worker relief might make you jittery or cause weight gain.
Watch
as this patient describes her efforts to find the right medication for her depression.
Antidepressants work—though exactly how, why, and for whom is a complicated question.
Symptom relief can take weeks
How antidepressants work is a subject of ongoing research and speculation. The prevailing theory is that they boost chemicals in the brain, especially the neurotransmitters serotonin and neuropinephrine, that make you feel better.
But scientists at Johns Hopkins University recently suggested an alternative theory: that antidepressants make brain cells regenerate.
You may start to feel better within one to three weeks of taking antidepressant medicine. But it can take as many as six to eight weeks to see further improvement. If you have questions or concerns about your medication or if you don't notice any improvement by the three-week mark, talk to your doctor.
"A misconception about antidepressant medications is that they affect everyone the same way," says Tracey Lipsig Kite, a psychologist in private practice in Evanston, Ill. "Some people are so sensitive to the side effects, and there are others who are fine with the side effects but for whom the meds don't work at all."