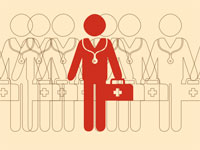 (ISTOCKPHOTO/HEALTH)
Low back pain is one of the most common medical complaints, so family doctors see a lot of back pain patients. But if four to six weeks of
painkillers
and
exercise therapy
doesn't help a patient, it may be time for a specialist. Many insurance companies require that you get a referral from a family doctor or another primary care physician before they will cover the cost of a specialist.
Between orthopedic surgeons, chiropractors, physiatrists, neurosurgeons, and osteopathic physicians, it's hard to know which doctor can best treat your pain.
How I Conquered My Chronic Back Pain

Years after a car accident wrecked her back, Pat fought for and found relief
Read more
Each approaches treatment from a different perspective. No treatment is guaranteed to give relief, so your choice will depend in part on your attitude toward the body and medicine—and your doctor's own philosophy.
The back pain caregiver menuChiropractors
Chiropractors are often the go-to caregivers for back pain. In 2002, approximately 15 million Americans used chiropractic care, about 40 percent of them for low back pain. To become a Doctor of Chiropractic, students must complete four years of education and training at an accredited chiropractic college as well as a one-year internship. Be sure to choose a chiropractor who holds a board certification and is state licensed. Like osteopaths, chiropractors favor physical manipulation of the body, and chiropractic treatment focuses on manipulation of the spine. Be aware that some practitioners make greater claims about what they can cure than others. Choose a chiropractor who is honest about your chances of improvement.