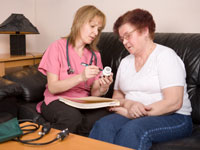 (ISTOCKPHOTO)
If you've been diagnosed with type 2 diabetes, you should spend time with a diabetes educator. These are doctors, nurses, dietitians, or other health professionals who have undergone special training to become a certified diabetes educator. (Look for the initials CDE after their name. Each state has its own certification.)
Since physicians can rarely devote enough time to newly diagnosed patients, it's typically a diabetes educator who teaches you how to keep your blood sugar in check, what to eat, and ways to change your life to prevent complications.
But diabetes educators offer so much more. They can help relieve your fear and anxiety and help you cope with many other aspects of the disease beyond the physical problems.
Learning how to inject insulin
After Al Kott learned that he had type 2 diabetes in 1994, it progressed quickly, and three years later he needed to start using insulin.
He had worked with diabetes educators after his diagnosis and found them to be a great source of information, so he headed back to learn how to use insulin. The educator—who
didn't
have diabetes—was "telling me to do this and do that, and she pulls up her blouse and gives herself an injection of salt water. She never stops talking! She doesn't even break her sentence!" Kott recalls.