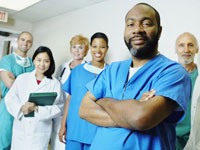 (ARTIGA PHOTO/CORBIS)
Type 2 diabetes affects your entire body, from the brain down to the nerves of your feet and everything in between. So when it comes to taking care of your health, you'll need a diabetes health-care team.
A team of doctors (and the resulting appointments) might sound tedious, but this type of care has been shown to be better than others for treating type 2 diabetes.
What your team can do for you
In one study published in the
American Journal of Medicine
in 1995, people who were hospitalized for diabetes were released 56% more quickly if they had a team of providers rather than just an internist and 35% more quickly than if they were only seeing an endocrinologist.
Team care can do the following.
Help lower your blood sugar
Improve your chances of seeing your providers in a timely manner
Improve your quality of life
Improve your satisfaction with your care
"When addressing the importance of the team approach with my patients, I use the analogy of the U.S. Olympic Basketball Team—the Dream Team. A team of professionals coming together for one common goal," says Constance Brown-Riggs, RD, a diabetes educator who is author of
Eating Soulfully and Healthfully With Diabetes
.
Quarterback

"The person with diabetes is the captain, and the primary care physician is the coach of the diabetes dream team," she says. "Other members of the team might include nurses, registered dietitians, exercise physiologists, podiatrists, ophthalmologists, dentists, mental health specialists, and pharmacists."
One health-care provider should coordinate your care. In general, there are three core members of your team (besides yourself), at least one of whom should be a certified diabetes educator.
A main diabetes health-care provider (usually a physician) who coordinates care with other specialists
A nurse
A dietitian
In some cases, an endocrinologist could be your main health-care provider, although primary care physicians, such as
internists or family doctors
, provide 80% to 95% of diabetes care in America.