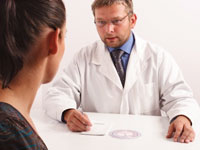 (ENDOSTOCK/FOTOLIA)
Your doctor needs to consider your current physical symptoms and condition when prescribing an antidepressant or mood stabilizer. If you have
chronic insomnia
, for example, she should obviously steer clear of the medications that list this side effect.
Medications you're already taking can influence your doctor's decision:
SSRIs (selective serotonin-reuptake inhibitors)
can interact with antihistamines, for example, triggering a racing heart and other potentially dangerous symptoms.
Bad Depression Drug Reaction

More about antidepressants
How doctors prescribe antidepressants
"If a person asks for a specific antidepressant, I will often prescribe that one, unless there's a clear reason not to," says John Herman, MD, a psychiatrist at Massachusetts General Hospital and associate professor at Harvard Medical School, who says that this is one way to put a patient at ease. "If we can, we'll go with something that they're already familiar with, or that a friend is taking."
Maurizio Fava, MD, professor of psychiatry at Harvard Medical School, asks whether people have a history of prior treatment with a particular drug, because if it worked in the past, it might work again.
Depression may have a genetic basis, at least in some people. So if a patient tells Dr. Fava that a certain SSRI or atypical antidepressant worked in a parent or sibling, he may prescribe that one first.