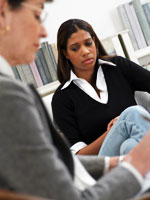 (ANDREA MORINI/DIGITAL VISION/GETTY IMAGES)
Finding a therapist who can best help you starts with choosing the right person, but not necessarily the right therapy.
Bruce E. Wampold, PhD, a professor of counseling psychology at the University of Wisconsin–Madison, analyzed data from 6,000 patients seeing more than 500 therapists and found that all schools of talk therapy can work—if the therapist is competent and in sync with his or her patient.
Watch
this top psychiatrist explain why it's important that you feel liked by your therapist, and why a growing number of experts are recommending a cognitive behavioral therapy approach for depression.
"It's important that you agree on the purpose of therapy and how you will accomplish that," says Keris Myrick, 46, of Pasadena, Calif., who has
treatment-resistant depression
and is a veteran of the mental health system. But finding the right mix of chemistry, experience, and area of expertise can be elusive.
Ask, "Have you been here?"
"I'm a little biased here, but I think you should go with someone has had to go through the process of therapy," says Jayne Bloch, a psychoanalyst and member of the National Psychological Association for Psychoanalysis Institute in New York City. "You're taking this journey to places unknown; it helps to go with someone who's been there before."
Psychologist
Gary Seeman
, PhD, offers one free therapy session to skittish potential patients who come to his Northern California offices. "That is not common practice, but you can find therapists who are willing to do this," he says.