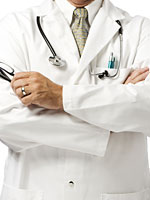 (ISTOCKPHOTO)
Good chronic pain treatment can be hard to find. A chronic pain patient has every right to believe that his or her doctor will listen sympathetically and prescribe the appropriate treatment, but that is not always the reality. Truth is, many doctors have not been trained to deal with the complex, changing area of chronic pain treatment. One 2001 survey of primary care physicians' attitudes toward prescribing certain medications found that only 15% said they enjoyed working with patients who have chronic pain.
This can lead to frustrating encounters at the primary-care level, especially if your doctor is rushed.
Chronic Pain Is a Disease

How pain rewires your brain and nervous system
Read more
Pressures on doctors
"Doctors don't want patients to suffer, they want people to get better," says Bill McCarberg, MD, founder of the Chronic Pain Management Program at Kaiser Permanente in San Diego. "But they feel stress, they feel time constraints, they have to deal with pre-authorizations, it's not the kind of practice they wanted. They're stressed, and that leads to moving patients along."
"As a doctor in today's medical system, it's difficult to deal with chronic pain conditions," agrees S. Sam Lim, MD, a rheumatologist at Emory University School of Medicine in Atlanta. "Most practices are forced to see a certain number of patients in a limited amount of time. [With chronic pain] it's not so simple as five minutes, a few questions, and handing out a pill. It takes some time. And our system isn't set up for that."
"The patient needs to realize that the doctor may not be able to discern what's going on in the first visit. Often it takes a few visits," says Dr. Lim.