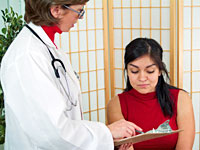 (ISTOCKPHOTO)
"People tend to react strongly in one of two ways when I tell them that they have clinical depression," says Rakesh Jain, MD, director of psychopharmacology at R/D Clinical Research Center in Lake Jackson, Texas. "Many people experience extreme relief. It's huge. They know they're not crazy, weak, or stupid."
Others react with denial, he says. "People often want to fight it on their own. They fear looking
weak
more than they fear being ill."
A feeling of failure
Pat McEvily, 52, of New Rochelle, N.Y., ignored his depression for 18 years after being diagnosed by a psychiatrist. His Irish Catholic upbringing left him feeling that
medication
would be a cop-out.
"I was convinced that my depression was a moral failure, even though I had a priest friend who told me it wasn't," he says. McEvily finally sought treatment, but he says he still fights the feeling of having failed.
Experts say such
stigma
is not justs in patients' minds. "It's ridiculous to pretend that there aren't people who get fired or pressured if they're seeing a therapist," says Corey Greenwald, MD, a psychiatrist in Atlanta.