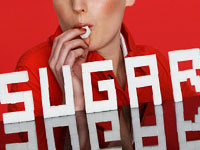 (ISTOCKPHOTO)
Prediabetes is an incredibly common condition in which blood sugar is higher than it should be, but isn't quite high enough to be type 2 diabetes. At least an estimated 57 million people in the United States, including more than 40% of those aged 40 to 74, are thought to have prediabetes. If you have prediabetes, you
don't
have diabetes.
But don't relax just yet. Prediabetes is a serious condition in and of itself. Prediabetes is linked to a great risk of heart disease and stroke due to the chronic damage that elevated blood sugar can cause to your heart and blood vessels.
Studies have show that most people with prediabetes—but not all—will have type 2 diabetes within a decade. On the upside, taking steps to lower your blood sugar now can help prevent or delay the onset of full-blown diabetes. If you lose 5 to 7 percent of your body weight through lifestyle changes, you can considerably diminish your likelihood of developing type 2 diabetes.
One Woman Made Changes After Prediabetes

She eats healthier carbohydrates and exercises 45 minutes a day
Read more
Impaired glucose tolerance and impaired fasting glucose
Prediabetes is characterized by two conditions: impaired glucose tolerance and impaired fasting glucose. If you have one or both conditions, you are considered prediabetic. (Both tests can also be used to diagnose diabetes.)
In both cases, your blood sugar is elevated, but falls short of diabetes. For example, if your blood sugar is between 140 and 199 mg/dl two hours after an oral glucose test, you have impaired glucose tolerance (a diabetes diagnosis requires a blood sugar of 200 mg/dL or higher after an oral glucose test).
If you had a blood sugar between 100 and 125 mg/dl after an overnight fast, you would have impaired fasting glucose (a diabetes diagnosis would be 126 mg/dl or higher).
"Now, neither of those conditions are actually diabetes," says Gerald Bernstein, MD, director of the diabetes management program at the Gerald J. Friedman Diabetes Institute at Beth Israel Medical Center in New York City. "But they put you at risk for diabetes."