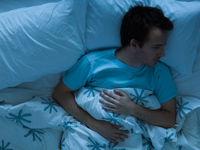 Masterfile
Anyone who's ever experienced a fitful night of sleep knows that "just relax" is easier said than done. But do-it-yourself meditation practices may help you prepare for rest, and put worries or discomfort behind you.
These techniques work best when done right before bed, in a quiet, calming environment. But you can also practice them several times a day, recommends Joyce Walsleben, PhD, associate professor at New York University School of Medicine.
"If you can keep your stress levels under control during the day, you'll sleep better at night," Walsleben says. "You can even do them at your desk or on the train."
Abdominal breathing
Breathing from the abdomen and putting your attention on those breaths can help you relax both during the day and in bed at night. Some people may enjoy lying in a dimly lit room, closing their eyes, or listening to soft music while focusing on their out breaths.
More techniques for better sleep
While sitting or lying in bed, try placing your hands on your belly. "When you breathe in and breathe out, your hands may gently move," says Kathy Doner, MD, who has a full-time hypnotherapy practice in Sebastian, Fla. "Focusing on this movement gets your mind off of your busy thoughts and onto your body. You can distract yourself and bring yourself to a different place. It's very calming."