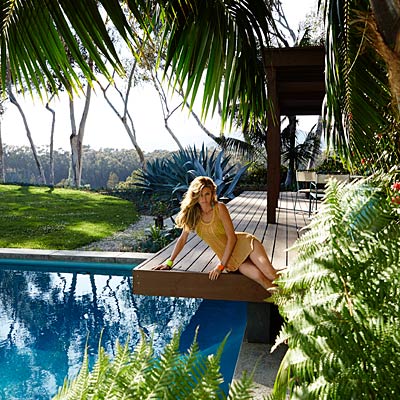 James White
"I forgot my phone," Erin Andrews says, after settling into a chair on the patio of a restaurant in Manhattan Beach, Calif.
"Do you need to get it?"
She breaks into a huge smile behind her oversize sunglasses.
"No! I'm just shocked that I actually let it out of my possession. I'm proud of myself!"
Considering everything the 36-year-old TV personality has going on—from co-hosting
Dancing with the Stars
to being the top sideline reporter for
NFL on Fox
—an hour-long stretch without calls, texts, tweets and Instagramming is a welcome (if accidental) breather. "It's nice to have time to clear my mind. It's kind of wonderful."
WATCH: Behind the scenes at the Erin Andrews cover shoot
Born in Maine and raised in Tampa, Fla., Erin has been working nonstop since graduating in 2000 from the University of Florida with a degree in telecommunications. In 2004, she got her big break—a reporting job on
ESPN National Hockey Night
—and has since become a favorite sideline reporter for college football, the NFL and Major League Baseball. She has made a name for herself by holding her own during live postgame interviews (see: Richard Sherman's viral rant last January) and by bringing witty, sometimes controversial commentary to the often predictable
Dancing with the Stars
proceedings (see: telling rumored couple Peta Murgatroyd and James Maslow she wants "a
Dancing with the Stars
baby"). We sat down with the star to find out how she
maintains her energy
, her enviable body—and her sense of humor.
Your fans love that you're so outspoken. Have you ever gotten into trouble by saying the wrong thing, like on Twitter, where you have nearly 2.5 million followers?
No, I have to be very careful with that. But it's hard when somebody says something and you want to put them in their spot. I've gotten "You look like Brad Pitt" or that I look like a bird, and I'm just like, "
Really?
"
What's been the worst one?
I recently tweeted a photo of a David Yurman ring I was wearing, and I didn't have moisturizer on, and they were like, "Your hands look like the old lady from
Titanic.
" But you know what? This is coming from a person whose avatar is a cat. So what do you want from me?
Did you ever worry about being a woman in a male-dominated field?
I didn't even think about it until I was in the industry and people started bringing it up. I always saw so many women do it on television. Hannah Storm, who did NBA on NBC, was a big influence.
Monday Night Football'
s Melissa Stark showed that it was OK to be, like, really good-looking and know everything about the NFL. The first time I met her face-to-face, I geeked out and told her she was my Michael Jordan.
How do you keep your confidence when there's a lot of testosterone around?
I feel like I'm one of the guys anyway. I'm such a guy's girl that even in the relationship I'm in now, my boyfriend [NHL player Jarret Stoll] has had to say, "OK, can I be the boy?" I'm usually the only girl at the dinner table. I'm not really allowed to be a female in my world of sports broadcasting, because if you don't blend in and be a guy, you're not gonna fit in. You're not gonna be included in the jokes, and they're not gonna want to take you to the bar at night to have a drink, and you won't hear all the
real
stories about what's going on with the teams, because everybody will be like, "She's just a girl." If there's a 1 o'clock pickup for the game, I like to be there at 12:50 because I don't want those boys sitting in that car waiting and going, "What are you, curlin' your hair?"