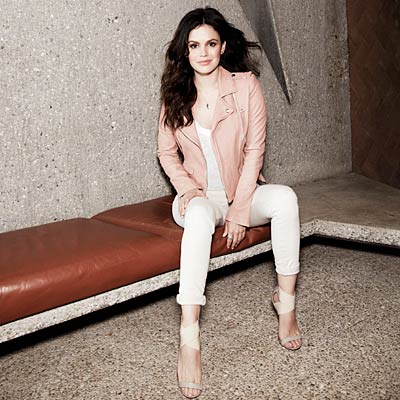 Cliff Watts
What's your secret to getting in such great shape?
I tried a personal trainer this year, for eight weeks. My boyfriend was in China doing a movie [
Outcast
], and he was getting in serious shape for it, and I was like, "While he's gone, I'm gonna do it. He can't come home and look like that and I got nothing to show for it." So I fully took it on, three times a week. I was totally committed and was really proud of myself. I was exhausted! Every day I would go to work and be like, "I can't lift my arms."
That sounds tough. What's your dream workout?
Dancing in a hip-hop class. It's a workout, but you're doing something fun. I want all my girlfriends to go and take a class. I've always wanted to learn the "Single Ladies" dance because how amazing would it be if we all started busting it out somewhere randomly?
Do you have a trick for getting yourself back in the moment?
When I'm on vacation, I'll be like, "I only have two more days," and then, "OK, I only have another day and a half." I have to remind myself: Be in the present. You have to figure out how to calm yourself down and just breathe. It takes me so long to shut my brain off. It is like nonstop chatter up there!
So how do you shut off your brain?
You know what I do? [
Laughs
] I'm going to sound like a crazy person. I just picture blackness. It helps me when I wake up in the middle of the night and I can't fall back asleep and I hear that chatter in my brain that just doesn't stop. I will literally picture black.
What is your biggest health regret?
When I was a teenager, I was obsessed with being tan and frying myself like a lobster with no sunscreen. And now I see it on my face. It's not about appearance; it's more about your skin and cancer. Now I always put sunscreen on my face, but I use a natural one called VMV Hypoallergenics. And I always have sunscreen on my lips because I had sun poisoning there when I was 16. I like Sugar because they have tinted ones.
Your skin still seems to have that radiant, forever-young look.
I've always looked young because I'm so short, and especially if I'm dressed down. When I have a baby, everybody's going to be like, "Awww, poor teen mom. Poor girl." And
Teen Mom
is my favorite show. That's what I download and watch on the plane. Like, don't talk to me, I'm watching
Teen Mom.
I know, pathetic. But it's true.
Let's talk fashion. What do you have too much of in your closet?
[
Laughs
] Good Lord. I have a collection of nightgowns. I'm really into the granny nightgown, I'm just gonna say. Like, full-on long-sleeve, long nightgowns. They're supercomfortable!
And what does Hayden think of the granny nightgown?
He's actually a fan. [
Laughs
] I wear them often. They're cozy. You just feel so free. You're like, "Oh! I'm in a dress. But I'm sleeping!" I secretly wish I was 80. If I could, I would be 80. It would be amazing.
What is the appeal of being 80?
You can do whatever you want, and no one is going to mess with you. You can go to sleep at 9 p.m. and not get reamed for it. Because I do that—I watch my shows in bed with my friends and go to bed at 9. My newest show is
Family Feud
with Steve Harvey hosting. I'm not afraid of the early bird special. I will eat dinner at 5, no problem. And I cannot walk around my house without slippers. So that's why the nightgowns work. I'm bringing it on early. Sexy, huh? [
Laughs
]
What do you value more than anything in Hayden?
He's so incredibly supportive and considerate. It's so basic—that should be there. Because these things are so much more important when you're older. I've been in my relationship for seven years, so we've grown up together in a way. This is my partner, my support, just there for me no matter what. And vice versa.
What is on your bucket list?
I have always wanted to skydive, but I actually can't physically skydive, because I have chronic sinusitis. So that's a bummer, right? I can't scuba dive, either—although I'm happy about that. I don't want to! I also have a bad hip. See? Eighty. [
Laughs
] But to start a family would be good, any year in the next few years. I've always wanted to be a mom. I have always wanted kids. I can just see this little toddler waddling around the house.
Rachel's Steak With Arugula
I didn't eat beef for three years, but I recently started eating it again because I needed iron. So this is the latest thing we do, with vegetables from my organic garden. It's so yummy.
To make it:
Marinate heirloom tomatoes in balsamic vinegar, olive oil, kosher salt and freshly ground black pepper. Then grill steak. Once meat is done, add fresh arugula to tomatoes, toss and serve on top of steak.
How to Be Your Own Stylist
Our style fairy, aka Rachel, shares her top tips for spinning your closet into gold.
Splurge on a nice black blazer.
That or a leather jacket is worth spending money on, since it's versatile. "But it has to be basic," says Rachel, "so it works with a dress, a skirt, jeans or shorts."
Rev up outfits with accessories.
"Once you have your favorite basics— your favorite pair of jeans, your favorite T-shirt, that black blazer—all you have to do is spice it up with a supercool pair of shoes or a scarf," she says.
Instantly reshape your waist.
Want to nip off a few pounds? Create a flattering hourglass figure. "If a dress doesn't have any shape," Rachel says, "give yourself a waist with a belt."