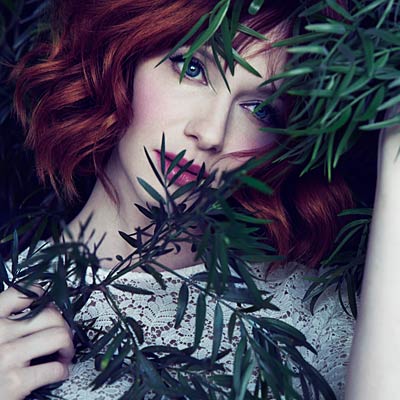 Do you have a regular workout routine?
Trying to make myself do it is my routine. We have an elliptical, a weight machine and free weights. I'm like, "OK, Christina. It's just an hour!"
You feel better after, right?
Always! Always! And I sleep better and I'm proud of myself—all of those things.
Sweats or spandex?
I just wear a yoga pant and an old T-shirt. Keep it casual.
Do you have any rules when it comes to eating?
As I've gotten older, I realize that my metabolism has changed. I finally had to get on board with fewer carbs and starches and sugars. I fought it kicking and screaming! But now Geoffrey and I think, What can we replace this with to make it still exciting and delicious?
Share your best healthy food swap.
Greek yogurt. I love dairy, so if I can't have sour cream or creme fraiche, it's a great substitute. I really love the tart tanginess of it. So if I'm dying for French onion dip, I just put in Greek yogurt instead of sour cream.
Do you like to cook?
I love cooking for my friends. It's nice to give them something homemade that your heart went into. That's where my motherly nature comes in—we got a puppy, and that's my idea of starting a family. People say, "Oh, that's practice for parenting," but if it's practice for anything it's to be a mom to another puppy. We've decided that we are not really interested in having children.
How do people respond?
It seems like it's expected that you'd want to have kids. It's just very normal for people to say, "Well, when you guys have kids..." And then when I say, "Actually I don't think we're going to do that," people will say, "Oh, you say that now..." It doesn't bother me, though. And, you know, there's a small chance I could change my mind.
Do you follow recipes or improvise in the kitchen?
Years ago, I was scared to deviate from a recipe, but now I'm like, "Oh, I don't have that, so I'll do this instead."
That sounds like a healthy life philosophy, too.
I've never been that person who had a plan like "In five years, I'm going to do this." Things have shifted in ways that I would never have imagined. I never anticipated being a professional actor. I just assumed it would be in community theater—like after my job, I would go to rehearsal and be in a play.
Now look at you. How do you defuse stress?
I sometimes get anxious about work or have fear of the unknown, but I try not to let it eat away at me. I turn to the people who are close to me and talk it out. I always feel better when my friends give me good advice.
When are you happiest?
Well, I woke up this morning and I heard good music playing and I smelled delicious food cooking downstairs. When I came down, my husband had his apron on and my dog was chewing on her bone. I was like, "This is perfect! This is exactly what I want to be doing right now." I felt very, very happy.
Christina's Greatest Hits
Cocktail:
"A Brandy Alexander. It's not something I order all the time, but it's probably the best drink I've ever had. It tastes like a slice of pecan pie."
Lipstick:
"I have so many, but one of my absolute favorites is Nars Red Square lip pencil. It's very orangey red and matte and vibrant."
Signature Scent:
"I just discovered Serge Lutens perfumes, and I have one called Fille en Aiguilles. It's warm and nutty, and oh my God, it's so sexy."
Guilty Pleasure:
"Spaghetti with red sauce. I love it. I crave it always."
Her Go-to Beauty MovesFace:
"I always start out with sunblock or a tinted moisturizer. Right now, I'm using Chanel Vitalumiere Aqua with SPF—it blends so well."
Cheeks:
"I'm a huge blush girl, but I tend to have dry skin. I love the HD cream blush by Make Up Forever in a coral color for day and a deeper berry shade for night."
Eyes:
"Ever since high school, I have done a liquid liner on my lid, and that's the look I wear on Mad Men, too. I use one by Stila, and I usually finish with two coats of mascara in dark brown."
Lips:
"I try everything, from matte to gloss. And because I'm fair, I can play with color. I am not afraid of bright pink or orange!"