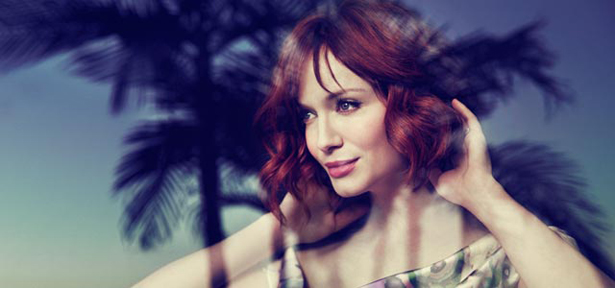 James White
When Christina Hendricks strides into a Los Angeles café, wearing a vintage dress, 3-inch heels and red lipstick, it's hard not to gulp. Even on a day off from filming the final season of AMC's Mad Men, she's as stunning and poised as her alter ego, Joan Harris.
But once the 38-year-old starts talking, it's clear she's more like a frank, funny girlfriend who can easily laugh at herself. "I come up with the silliest excuses when it's time to work out," Christina confides over an early lunch. "I'll be like, 'Oh no! Now I have to go and find some socks.'"
WATCH: Behind the scenes at the Christina Hendricks cover shoot
The Emmy-nominated actress may be co-starring in films with Charlize Theron and Eva Mendes later this year, but she's as un-Hollywood as it gets. She's quick to admit that she will run to the drugstore for a box of hair color if she can't find the time to have her red tresses tweaked at a salon. Her shopping habits are down-to-earth, too: "This dress is inspired by Michael Kors' new collection, but I found it on eBay for $11!" (Her $17 shoes are from a thrift store.) Leave it to Christina to make a $28 outfit look like a million bucks.
Joan has come such a long way on Mad Men, from a secretary to partner. Do you think she leans in when it comes to supporting other women?
She does. The whole relationship with Peggy has been head-butting, but I think it's because they communicate in different ways. Joan is incredibly blunt, and it can come off as cruel, but I think she's always trying to help.
She can be one of the guys, but she never sacrifices her femininity. What's her secret?
Joan knows her audience. And early on in her life, she realized that she could use her feminine power. She has a sense of humor. It's like "Wink, wink. I got your number, but I'm not playing your game."
How has her style evolved?
I think Joan moves with the times as far as fabrics and color choices go. But she knows what works for her, and she sticks with that silhouette. Her hair hasn't changed in six years!
What works for you?
I have classic and feminine taste. I'm definitely drawn to vintage-inspired and ladylike things. I like an accentuated waist, and a strong shoulder works well with my figure.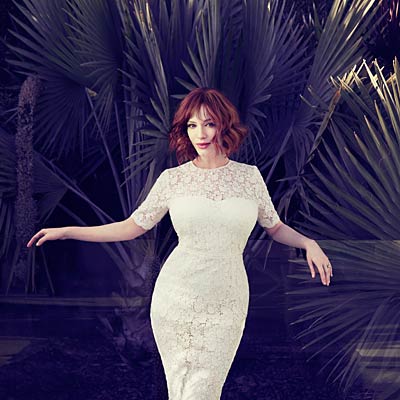 James White
Any tips for making sure that vintage doesn't look too costumey?
It is tricky because I do wear a lot of vintage on the red carpet, and usually when I'm getting ready, I'll say, "We need to make sure that I don't look like I'm in a Scorsese film today." Sometimes I do something a little bit more modern with my hair. You have to mix it up.
What is your go-to look for summertime?
I love a caftan in the summer. It's like my housedress. I have a collection of Camilla Franks in my closet. When my friends come over, they're like, "Really? That's so...colorful." But they make me happy.
I read that you and your husband (actor Geoffrey Arend) were sketching swimsuit designs. Are you designing a collection?
We did it one night on a whim. We were just having fun together. It was never a reality.
That's too bad. Which type of swimwear cut is best for you?
I like the old-fashioned, vintage-inspired swimsuits with halters and maybe a little ruching, and the longer cut that's almost short-shorts, like Ava Gardner used to wear a lot, right?
Speaking of Ava Gardner, what does your husband have to say about your sexpot image?
Ha! Whenever we see something about it, he always says, "I told you from the beginning. I'm the one who called it first." So he just wants a little credit. Really, he's sweet and he's happy for me.
You once said that you two work out together.
We used to share a trainer. Now I'll say something like "OK, we need to do push-ups every day," and at any time in the day, I can make him get down and do them, or he can tell me to do them.