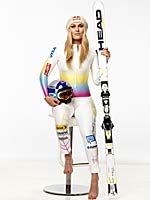 Vonn, NBC Olympics/USOC
Don't miss the 2014 Sochi Olympic games beginning Feb. 6 on NBC
When it comes to accomplishing dreams, Olympians make it look so easy. But there's a lot of work that goes into being a world-class athlete: pushing through training, learning how to stay calm under pressure and keeping confidence up—even after a major setback, such as a loss or an injury. While you may not be gearing up for the games like these women, their tactics can still help you thrive. Take their advice on how to reach your personal best.
Embrace your body
"When I'm using my body to push past boundaries, I'm thinking about it as a vehicle for learning and growth—instead of just thinking about how it looks."
—Gretchen Bleiler, 32, snowboarder, 2006 Olympic medalist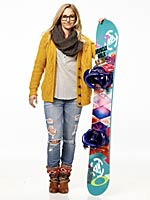 Bleiler, NBC Olympics/USOC
"Heels make me stand up and feel more confident and sexier. They also help with my posture, since I'm a big sloucher. I have this pair of Jimmy Choos that are my secret weapon."
—Lindsey Vonn
"I always feel my best when I have given it my all in the gym. I feel so strong and confident. It also doesn't hurt to throw on a pair of great-fitting jeans!"
—Nicole Joraanstad, 33, curler, 2010 Olympian
"There is something about everyone that makes them feel self-conscious, and I'm no different. But I also have a hundred things to be proud of—like how healthy and strong I am—for every 'flaw.'"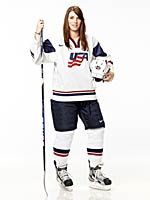 Knight, NBC Olympics/USOC
—Erin Hamlin, 27, luger, two-time Olympian
"I play my best when I'm at a heavier weight. The more I gain, the bigger my legs and arms become. But I embrace it. It's a mark of my training, and I am really proud of my hard work. You should never feel insecure about being muscular and fit."
—Hilary Knight, 24, ice hockey player, 2010 Olympic medalist
Maintain your motivation
"The desire to always grow motivates me. When you get comfortable doing the same thing, you get stagnant and stuck. Life is about challenging yourself to learn and to become the best version of yourself."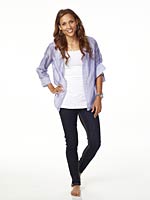 Jones, NBC Olympics/USOC
—Gretchen Bleiler
"I focus on what is right in front of me and break down what I have to do into small steps. And I remind myself that these steps are building up to something worthwhile."
—Kikkan Randall, 31, cross-country skier, three-time Olympian
"I am very competitive, so when I'm in the middle of a grueling workout, I simply think of what my competitors are more than likely doing, and that makes me want to do it even more."
—Erin Hamlin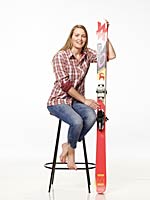 Eliassen, NBC Olympics/USOC
"Every year, there is something else I want to achieve. This is what drives me through a tough day of training. Lifting, cardio, plyometrics and agility drills—I dislike them all. What I do like, though, is the feeling of making progress. It's all about improving. And to do that you must push yourself."
—Lindsey Vonn
"At the end of the day, I want to have no regrets. That's why I train hard every single day."
—Nicole Joraanstad
Stay balanced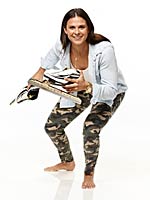 Bowe, NBC Olympics/USOC
"You need to build 'treat yourself' moments into your life—whether that's taking a walk, watching television or even grabbing a cup of coffee. These things make you happy and provide balance in life."
—Hilary Knight
Change can be a good thing
"After London, I was broken. I couldn't understand how I could be so good to something (track and the hurdles) and have it not love me back. I wanted to get as far away from track as possible. Switching to bobsledding gave me a different perspective, which in turn restored my love for track and my desire to compete."
—Lolo Jones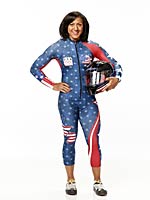 Meyers, NBC Olympics/USOC
Center yourself
"I do focused breathing. I breathe in and hold for two seconds, breathe out for 10 seconds and repeat. It slows down the body and the mind."
—Grete Eliassen
"To quiet my nerves, I try to focus on the process and not the outcome. I play my best when I'm in the moment."
—Nicole Joraanstad
Prepare to eat great
"When you have a hectic schedule, it's easy to make bad food choices. I plan out my meals at the beginning of each week. On Sundays I do three to four hours of prep work and then cook everything. It makes things much easier when I get home from practice because everything is all ready to go."
—Grete Eliassen