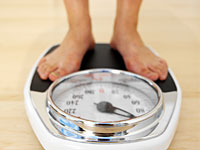 Getty Images
"We've all heard it a million times: In order to lose weight, just
burn more calories
than you consume. Simple math, right? Yeah, unless you live in the real world—the one with deadlines and
cronuts
. Only one in five dieters are successful at losing—and keeping off—10 percent of their body weight, according to the National Weight Control Registry (NWCR). "You're battling your biology—your body reacts to dieting by burning fewer calories—as well as your emotions and your environment, where there are way too many temptations," explains Robert Kushner, MD, director of the Center for Lifestyle Medicine at Northwestern's Feinberg School of Medicine."
But getting help can make all the difference. Brand-new
obesity-treatment guidelines
from the American Heart Association, the Obesity Society and the American College of Cardiology say that the best way to lose weight is to work with a trained health-care professional. And just over half of the successful losers tracked by the NWCR sought outside help.
In fact, with the right tools and support, anyone can achieve weight-loss success. "People who have maintained long-term weight loss had many failed diets in their past," points out James Hill, PhD, co-founder of the NWCR and director of the Colorado Nutrition Obesity Research Center. "Just because you haven't succeeded yet doesn't mean you can't do it." It may simply be a sign that it's time to call in reinforcements. Here's where to turn if you're having trouble losing on your own.
Consult a dietitian
What it is:
Think of a dietitian as your personal food coach. After taking a thorough look at your eating habits, daily schedule, stressors and snack triggers, she will help you come up with an overall nutrition plan. "We can help women with budget and time constraints find ways to eat healthy, give advice on how to lighten up favorite recipes and provide suggestions for dealing with emotional eating or getting more exercise," explains Jessica Crandall, RD, general manager at Denver Wellness and Nutrition. Bonus: Meeting with a specialist provides accountability, so it's easier to stay focused on your goals.
What the research shows:
Nutrition education can improve overall diet quality and aid in weight loss. A 2013 study in the
Journal of the Academy of Nutrition and Dietetics
found that people who received eight nutrition-coaching sessions over six months lost on average 5 percent of their body weight.
Who should consider it:
Anyone who's committed to cleaning up her diet but isn't sure where to start. A dietitian can also work with you to strategize around a specific food challenge, whether you're eating off your kids' plates or struggling with a health problem like diabetes.
How to find one:
Look for someone with the initials RD, for "registered dietitian," or RDN, for "registered dietitian nutritionist." Both indicate that she has earned at least a bachelor's degree with requirements to study the science of nutrition and the psychology of eating, complete a supervised practice program and pass an exam given by the Academy of Nutrition and Dietetics (AND). Search for an RD in your area at the AND website (
eatright.org
).
Cost:
Usually from $100 to $250 an hour; most people do three to six sessions over the course of four to six months. Insurance coverage varies, but it's more likely if you have a weight-related health problem.
See a cognitive-behavioral therapist
What it is:
Cognitive-behavioral therapy (CBT), a short-term, results-oriented form of counseling, focuses on changing unhelpful behaviors and thoughts—like
I deserve to eat a piece of cake because I've had a hard day.
"A cognitive-behavioral therapist can help you identify your triggers for overeating, teach you strategies for managing stress and give you insight into how psychological issues, like depression, anxiety or low self-esteem, might be affecting your diet," says Sherry Pagoto, PhD, associate professor of medicine at the University of Massachusetts Medical School's Division of Preventive and Behavioral Medicine.
What the research shows:
"Studies that have looked at using CBT in people with binge-eating disorder have found that about 50 percent are able to get it under control," says Marney White, PhD, associate professor of psychiatry at Yale University School of Medicine. "And binge eating is notoriously difficult to treat." In 2012, one study found that women who had CBT alone over the course of six months, without being encouraged to exercise or eat less, lost on average about 5 pounds.
Who should consider it:
"If you struggle with emotional eating or have other issues, like depression, anxiety or a history of disordered eating, a mental health professional is a good choice," Dr. Kushner says.
How to find one:
Go to the Association for Behavioral and Cognitive Therapies site (
abct.org
) and click on Find a Therapist, where you can look for practitioners who specialize in weight management or obesity.
Cost:
Anywhere from $100 to $200 or more an hour. According to the new obesity treatment guidelines, the most effective plans involve two or three visits a month for at least six months. Under the Affordable Care Act, insurers are required to cover mental health care, though your plan may have some restrictions. Many therapists offer a sliding fee scale to make it more affordable, and teaching institutions tend to have reasonable rates.
Visit a weight-loss spa
What it is:
A retreat with body-transforming benefits. The options range from spa resorts that offer light, fresh food and a few seminars on nutrition to more specialized diet destinations. In general, programs with a stronger weight-loss emphasis will give you the biggest bang for your buck. "Good spa programs have a daily exercise component, healthy food and lots of education about diet and exercise, so you learn strategies to use once you leave," Hill says.
What the research shows:
Most spas don't invest in peer-reviewed research, but one study of the Hilton Head Health program in Hilton Head, S.C., found that 68 percent of guests kept off the weight they lost for at least a year.
Who should consider it:
"People who are ready for a long-term change but would like a jump-start to push them in the right direction," Dr. Kushner notes. "That said, most people are going to need some ongoing support
after
they leave."
How to find one:
Spafinder.com
and
destinationspavacations.com
provide lists of weight-loss spas. You can also get suggestions from friends and doctors. "Look for a place that uses a solid medical approach, with at least a few RDs and exercise physiologists on staff," Dr. Kushner advises. And you'll want a philosophy that suits your style and needs. For example, The Ranch at Live Oak in Malibu and The Biggest Loser Resorts emphasize exercise and fitness, while Pritikin Longevity Center & Spa in Miami and Canyon Ranch resorts are more medical, with blood tests and MDs on hand. Green Mountain at Fox Run in Ludlow, Vt., teaches women a sustainable "nondiet" approach to eating.
Cost:
Expect to pay $3,000 to $4,000 or more a week for the basic program; add-ons, like individual consultations with nutritionists, typically cost extra.