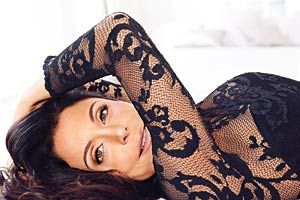 Ruven Afanador
"Do you want something to drink? A snack?" asks
Bethenny Frankel,
foraging through the food stash in her cheerful girl cave of a dressing room. "I'm going to wrap up these cake pops for Bryn." It's clear that even after taping back-to-back shows, the star (and mom of 3-year-old Bryn) isn't one to sink into the sofa and let others deal with the details. That work ethic and regular-girl vibe have served the New York City-based
Skinnygirl
founder famously well. Now, with her Ellen DeGeneres-produced daytime show in its first official season (after a successful test run), the 43-year-old is taking her girlfriend talk to a whole new level. The show is loose and candid; she puts herself in the hot seat as much as she does her guests. (In recent episodes, she took divorce advice from Martha Stewart and Kate Gosselin.) But though Bethenny has been going through a very public split from Bryn's father, Jason Hoppy, she seems at peace—and she looks fit in black leggings and a Mickey Mouse tiny T. While powering through a bag of Popchips, she chats with Health about her kind of balancing, why she still hates diets and what makes her happy now.
What do you like about doing a talk show compared with the TV you've done in the past?
Bethenny:
You're at full tilt the whole time and really connecting to women. I want to give them something on each show they can take away and use in their own life. It's about women helping women.
What's most challenging?Bethenny:
It's intense. I do two shows a day. It's 150 people working on the show. You're responsible for people's jobs. I'm thinking about every single thing—from what the flowers look like in a guest's dressing room to is the celebrity happy to is the audience having fun. Are the stations liking it or is it too edgy? It's a very difficult thing to do.
It sounds like a 24/7 role. Do you get any free time?Bethenny:
I've created my schedule so I have time off to be with my daughter, to take her to the playground. That's why I work so hard when I work. It's very work hard, play hard. I do everything crammed together, the two shows (taped on the same day) two days a week so I can have free time with her. But by the same token, I have a 3-year-old. On the days when I'm with her, it's all her. So I don't really have much free time to myself.
Your new book, Skinnygirl Solutions, gives total-life advice to women. What's the best advice you ever got?Bethenny:
Ellen's given me really good advice with the show: "If you're not interested in it, they're not going to be interested in it." It's your show. And one of the executive producers said to me last year—that's been the best piece of advice—"If it comes to your mind, say it." You're talking to someone and thinking, I want to know about that. Ask it. Because if you want to know, the viewers want to know.
You aren't one for softball interviews. Because of that, are there people who won't do your show?Bethenny:
No, because it's a no-judgment zone. I don't want to hurt them—I want to help them. I know that if guests come here and do fluff, they're going to feel dissatisfied. So I'm like, "Let's do this. I'm not going to gang up on you." I actually have a different perspective on a lot of things, and I often understand where people are coming from, especially women. There was a woman on today who publicly shamed the guy who broke up with her by text. And I could kind of understand where she is coming from.
Who are you dying to get on the show?Bethenny:
Mark Zuckerberg. I'm interested in him. There's a different side to him. And if I'm interested in him, they'll be interested in him.
Much of your career has been focused on healthy eating and helping women not be obsessive about food. Did you learn that growing up? Or is it more a reaction to what you saw?Bethenny:
I grew up eating quality food but in a very obsessive household about being thin and eating disorders. Food was an obsession in my house—out to restaurants every night—but then so was dieting. When I was in my 30s, I just unlocked the safe. I figured out how dieting doesn't work. I'd been on every diet and it took me all those years to realize: Diets are hopeless. They are hope, and then they break your spirit. So (my book)
Naturally Thin
will still be the greatest work accomplishment of my life. I mean, there was a woman who came on the show today who lost 100 pounds with
Naturally Thin.
It's learning how to allow and to indulge. That works.