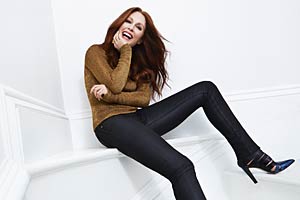 James White
What are your favorite forms of exercise these days?
Julianne:
I try to do
Ashtanga yoga
two to three times a week. I've also started working out with a trainer, doing light weights and a lot of jumping around. The main problem is I can't do anything six days straight because I get hurt. That's the thing about old age—eventually your hip starts to hurt and you have to switch and do something else.
There's always interior design. We know you're a fan. Did you ever think about a career in it?
Julianne:
I didn't know a career in it existed! But I don't think everything you do has to be something you make a living doing.
So what do you think is the secret to a harmonious domestic space?
Julianne:
That's a good question. You have to have a collective living space where people can comfortably be together, because I think people really do
want
to be together. And then places for everyone to go [on their own]. I'm lucky—I only have two kids, and they have their own rooms. It's not always possible. [
Looks toward the entrance, smiling
] Oh, here comes my husband and daughter. And they brought both dogs!
Liv:
Mom, you think I could have a
strawberry-banana smoothie
?
Julianne:
[
calling to Bart as he gets food
] Strawberry-banana, Bart?
With Thanksgiving around the corner, what do you find yourself grateful for?
Julianne:
Oh my God—I'm grateful for everything! I'm grateful to be alive. I'm grateful for my family, for my children, their health and my health, my husband's health. I think the older you get, the less you take anything at all for granted.
What habits do you have that aren't so healthy?
Liv:
Mom, can I tell the story about the
doughnut
?
[Julianne nods]
So we just came from my grandma's birthday party, and Mom had her dessert and my dessert. And then we went home and I'm in another room and I hear, "Liv, what's in this bag? Oh! Doughnuts!" I'm like, "Mom! Don't eat that! You'll make yourself sick!"
Julianne:
So my daughter came to my rescue before I was able to swallow the doughnut after eating two desserts.
Bart:
[
handing off smoothie
] How about your
OCD
?
Julianne:
Well, that's not a habit. That's an affliction. But yes, I never stop
cleaning the house
. I throw things out before people are done with them, and then I get yelled at for it. Yesterday, before I could relax, I had to clean out the shed and reorganize the pantry. And also clean out the laundry room.
Bart:
The other day, I took mustard and Sriracha out of the fridge, and I was going to make something with it. I put it on the counter and then walked back to the fridge. But then she circled from the other direction and put it back.
Julianne:
The other night, we were playing a board game, and one question was "If there was a headline to a news story about you, what would it be?"
Bart:
[
jumping in
] She said, "Cleanest woman in the world cleans whole town." [
Julianne, Bart and Liv crack up
]
What's your Sunday routine?
Julianne:
We read the paper for a long time. Sometimes Cal has a basketball game, so we'll go watch. Liv might have a playdate. And instead of brunch, we have lunner, which is between lunch and dinner, so we have, like, a 4:30 lunner.
Well, many nutritionists say we should eat dinner early, so that's healthy thinking.
Julianne:
People will tell me we're having dinner at 7:30, and I'm like, "Are you kidding?"
Bart:
I'll come in and she'll be on a tear about them, like, "They want to meet there at 8 o'clock. What am I supposed to do between 5 and 8?"
Julianne:
In an ideal world, I'd eat at 5 every night. [
Laughs
] We know how to live! We have lunner, and then we play a board game.