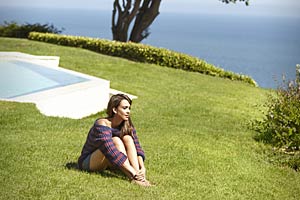 Marc Baptiste
What advice would you give to other women wanting to start their own business?
Be the best. Be the coolest. And deliver on something that's different from anyone else's. What need isn't being fulfilled? Because if you're not doing anything innovative or cool, someone is going to come in and slam you. You're going to get copycats, but if you're that dope, then no one can
really
copy you.
You have a history of asthma and allergies. Has your more natural lifestyle helped?
Yeah, I used to have a stuffy nose every morning, and once we got a HEPA filter in our main air-conditioning unit in our house, it went away. Just having clean air: crazy! Even Cash—we would both wake up, like, "Honk," blowing our noses with swollen eyes. And now we don't.
So many of us want to use more natural products, but we are overwhelmed. What is the first change we should make?
Read labels on
everything:
what you're cleaning your house with, what you're cleaning yourself with and what you're putting in your body. You have the power to not expose your kids or yourself to chemicals that are endocrine disruptors or allergens. You don't need to live that way.
What's your favorite way to cook healthy?
Substituting oil with a broth, like a vegetable or chicken broth, is one of my tricks for chicken or vegetables or a stir-fry.
It's funny; a girlfriend of mine told me, "You were the only person I knew who cared about food and health when we were kids." I was 12 when I started cooking for myself. I never wanted things to taste nasty. Just because it's healthy doesn't mean it has to taste gross.
If you had a chapter in your book titled "Honest Workouts," what would they be?
I like dancing. There's a choreographer I used on a couple of movies, JJ Dancer [aka Jennifer Johnson]; her dance moves are so fun, so it doesn't feel like you're working out. And I like interval training on a treadmill, with sprinting and then uphill walking, then sprint, then uphill walk, then sprint. This morning I did sprint intervals with a high-incline walk. Otherwise I get bored—I can't just do the same thing over and over.
Do you do that a set number of days?
I started by posting on Instagram yesterday. I was like, "Motivated Monday, I'm going to try to do this every day this week." It was so brutal, but if you say you're gonna do it, then you have to do it!
After you had your younger daughter, you credited a corset with helping you regain your shape. Would you use one again?
Of course. Who wouldn't! Your muscles are completely stretched. It gets the muscle memory going quicker. It's just to get your body back. Because everything is
everywhere!
People always seem to be trying to lose weight in Hollywood. Has your attitude on diets shifted?
To me, it's knowing that if you eat unprocessed fresh food—it doesn't all have to be organic, but try to have the least amount of GMOs [genetically modified organisms] and pesticides—you have energy, aren't starving and don't have to count calories. When I'm "dieting," I'm not eating as many snacks—because I love snacks.
[Laughs]
Popchips, Pirate's Booty—or I could eat a pound of fruit. So I cut down on snacking when I'm trying to be healthy.