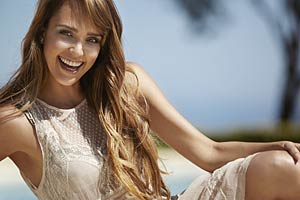 Marc Baptiste
There's a new Jessica Alba in town. The screen star is still here, of course—this fall she appears in two major films, the comedy
A.C.O.D.
and the action movie
Machete Kills
. But the mother of two daughters (Honor, 5, and Haven, 2, with her husband, Cash Warren) is also an entrepreneur, who saw a need for more natural products for new moms and made it happen. A year after launching
The Honest Company
—which sells everything from nontoxic diapers to body wash—she has written a handbook to clean living,
The Honest Life: Living Naturally and True to You
, and is in the process of moving the company into new headquarters in Santa Monica. It's a bright, skylit space, where one wall is peppered with positive mantras. Among the painters and movers shuffling through, Jessica, 32, fits right in: She's wearing denim overalls and a black-and-white-striped tank top, her hair up in a topknot. It's a style inspired by "um, hammering things?" she says, laughing. "It doesn't get done unless I do it!"
As she sips a green drink she brought from home, the down-to-earth star chats with
Health
about how she got her brand off the ground, which healthy change helped her allergies the most and what it took for her to
finally
wear a short skirt in public.
Check out this video of our cover shoot with Jessica Alba!
When you started this company, you were already a movie star. Was it daunting to try something completely new?
There were certainly moments when it was scary. The day we launched, I was like,
Is anyone even going to go to our website
[
honest.com
]? Our distribution is mainly the Internet. It took me about three years of people telling me I was crazy and that there's no way it could ever happen before I found the partners who could balance my weaknesses.
What is it with people feeling the need to tell you it will never happen?
Well, because it's so untraditional, in a space that's dominated by big, big players. But at the end of the day, when you're so big, it's hard to be malleable; it's hard to have a soul. We never entered thinking we were taking on the big guys. We just knew that there was an opportunity to do something cool for families. We all have young children here, and all the choices we make are really dictated by what would make our lives better as parents, versus solely relying on market research. Of course people were like, "I've never heard of that." Because it didn't exist; there was no template.
Well, like your mantra downstairs says, "Dive in to the deep end..." What's your mantra of the moment?
Breathe. I swear. It's been so hectic. And I've been doing more work in movies and on television lately.
Is the fulfillment you get through your company different from what you get through acting?
Oh, yeah. My decisions here affect more than just me. It's a lot of pressure. This is intense. This is important. This is time-consuming. When I do a movie or a television show, I have control over so little of it. So I've found, lately, that it's so much more fulfilling to be a lot more risky with my acting choices.
What are you drawn to these days?
My choices used to be about pleasing other people. And you have to be the opposite, I think, to get the most out of your experience as an actress. So now I don't feel the pressure to be
that
girl. It's also part of getting older and being a mom. So it's a nice balance, because this business can really wear you down, especially being in it as long as I have. This year, I've acted for 20 years. That's so messed up! How did I do
anything
for 20 years?
[Laughs]
Now I don't work just to work. To me, doing two or three days on a movie with a cool director is more important than spending my life on a set.