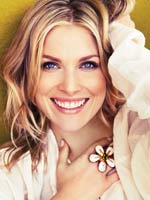 Ruven Afanador
So, what makes you the bad-girl Martha Stewart?
My approach is definitely messier. I try to create an environment where people aren't scared if they break a wineglass.
With all your entertaining, how do you manage to squeeze into those jeans?
I tend to work out for an hour about four days a week, and I love to run. It's the quickest way, with my busy schedule, to be able to enjoy my life and keep my weight at where I want it to be. Sometimes I grab a trashy magazine and hit the treadmill. But I prefer to go for a nice run outside. It's a huge de-stressor for me.
Have you tried any new workouts lately?
I filmed a movie last year called
Lovesick,
and I played a ballet teacher. I took 10 ballet lessons, and I loved it. My body really responded to it, so I have been taking barre classes.
You once talked about the pressure to look perfect in Hollywood. Do you still feel that pressure?
I do, but I am more self-aware now. Your physicality is a huge part of your career as an actress. I just read this article where Cindy Crawford said that by the time she's 50, she's going to come to terms with her body. [
Sighs
]
Have you come to terms with your body?
I think about it more than I'd like to, and I'd rather be reading a book. That being said, I work out, I eat well. I eat badly sometimes, too. But it's hard to impress me with a body that hasn't had a baby. Have a baby and then let's talk.
Some actresses seem to lose the baby weight in two weeks. Did you feel as if you had to snap back into shape immediately?
I wasn't in a rush to go back to work, so being home with my son will always be one of the best times of my life. A lot of women say that they breast-feed and the pounds come right off. [
Laughs
] For women who gain 25 pounds, that's probably true. But for me and [actresses like] Busy [Philipps], who enjoy our cake, it's not going to come off in two months. I gained 45 pounds. Mine came off at about five months, after working out a lot and doing a food delivery service.
Do you have any secrets to healthy cooking?
I have nothing fried in my book—not even my meatballs!—because I don't think you need to be cooking that way at home. I don't usually cook with a lot of butter, either. I'd rather top something with a little butter than hide it in the inside.
You have a section in your book devoted to Detox. Should we be afraid?
It's not a cleanse. I always put on 5 to 7 pounds in that stretch between Thanksgiving and Christmas. After the holidays, I tend to clear out the pretzels and crackers and gravitate toward a vegetable-based diet. I'm usually hungry in the beginning. But then I start to crave fruit rather than an ice cream sundae. Like most women, I can't eat
half
a brownie. It's just not who I am. I go for it, and then I try to be better. You have to enjoy life, right?