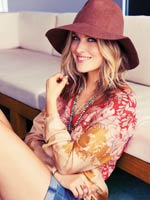 Ruven Afanador
Finally, an actress who admits she has no willpower.
"I have to eat dessert every day of my life, even if it's just a piece of dark chocolate," says Ali Larter, nibbling on an afternoon snack of fresh fruit at a Beverly Hills café. The 37-year-old New Jersey native—married to actor Hayes MacArthur and mom to toddler son Teddy—spent nearly 365 days gathering (AND SAMPLING!) more than 100 of her favorite recipes for her new cookbook, Kitchen Revelry. She even put on 5 pounds while she was creating this witty love letter to entertaining. Over a soy cappuccino, the self-described "bad-girl Martha Stewart" chatted about everything from breaking wineglasses at parties to shedding that dreaded holiday weight gain.
Tell us what inspired you to write this book.
I left home when I was almost 18 and traveled around the world as a model. In Japan or Italy—where I didn't know anybody—food was always my way to make a connection with people. When I moved to New York in my 20s, I wanted to throw dinner parties. But I threw one, and it was such a disaster! I attempted to make complicated recipes I had never tried before—I was panicked the whole night.
Check out this video of our cover shoot with Ali Larter! Obviously you have come a long way since then.
Now I can't go a month without throwing a dinner party. For me, entertaining has become a metaphor for life. If you mess up, laugh at it and order in pizza. What's important is putting yourself out there.
It's so easy, when you're entertaining, to worry that your guests are judging you by your flatware.
You are your hardest critic. When people come over, they don't care about the table settings or the linens or the outcome. What they care about is being there with you and having a nice evening together.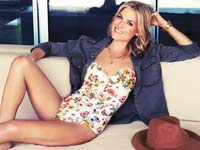 Ruven Afanador
Do you apply this newfound philosophy outside the kitchen as well?
Yes. I was exhausting myself with the pressure of doing everything right. I'm a doer by nature. If I have a 10-hour day, I'm probably still going to work out and cook dinner, too.
It sounds as if cooking is therapeutic for you.
When I have a crazy day, I enjoy chopping and cooking—it relaxes me. But then there are times when I'm in the middle of cooking and my son is running around, and I just leave it. I see that he needs me and cooking isn't working right now.
What do you consider your go-to outfit as a hostess?
I love wrap dresses. I also like a great pair of old jeans with a nice T-shirt. I just add some bold jewelry and bright red lipstick to glam it up.