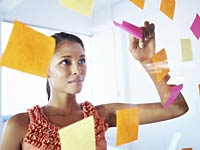 Getty Images
I used to have a memory
that amazed people, but in the last few years I've had trouble remembering names and movie titles. ("You know, the one about the guy who goes somewhere? It won that award...") I hope to have many years of sharp thinking ahead of me—I'm in my mid-40s, nowhere near senior-moments territory—so I got to wondering: Is there something I should be doing
now
to counteract the lapses that already seem to be taking place?
There's no way around the fact that memory erodes as we get older. The hippocampus, the area of your brain responsible for building memory, loses 5 percent of its nerve cells with each passing decade. Plus, aging slows production of acetylcholine, a neurotransmitter vital to learning and memory. Based on these facts, scientists once believed that a person's mental ability peaked early in adulthood, then went downhill from there. But over the last few decades, research has found that adults' brains are still able to form new, memory-building neural networks in a process known as neuroplasticity. The reassuring latest thinking: With a little effort, anyone can boost their power of recollection.
To test this theory in the real world, I tried an array of research-backed brain-sharpening techniques over one six-week period. Am I now able to list all 44 U.S. presidents? No. But can I more easily summon up where I put my keys? Yes. And I think being able to leave my apartment and lock the door is a more valuable life skill than remembering James K. Polk. Here's what worked for me—and what fell flat.
Technique #1: Play brain games
Puzzles like Sudoku and crosswords may improve memory and delay brain decline, though experts are not yet sure why. "My guess is that playing them activates synapses in the whole brain, including the memory areas," says Marcel Danesi, PhD, author of
Extreme Brain Workout.
Research so far is decidedly mixed: Some studies have found that, while doing crossword puzzles may make you better at remembering the capital of Burkina Faso, there's little evidence they'll boost your performance at more general tasks, like remembering where your car is parked. But a 2011 study showed that participants who played a computer game called Double Decision for six years improved their concentration so much that they had a 50 percent lower rate of car accidents.
So I decided to try an online brain-training program called Lumosity, which neuroscientists from Harvard, Stanford and the University of California at Berkeley have used in their own studies; its creators claim that 97 percent of users improve their memory in just 10 hours of playing time. First I answered a series of questions at lumosity.com to identify which of my cognitive processes, including memory, could use a little help. Then I received a personalized training regimen. A 10-minute daily series of games is free, and a more advanced program is available for $12.95 a month. (Being cheap, I stuck with the former.) The games are pure fun—remembering a pattern of blocks, spotting a bird in a field—and are based on what research has found to improve concentration and other cognitive skills.
My grade: B-
By the end of a month, my "brain performance index" score rose 6 percent—not amazing in the Lumosity world, but respectable. The main problem: You have to play the games every day, forever, to keep up the benefits. I've mostly kept up. (Except on weekends. Or if I've had a busy week. OK, I haven't kept up.)
Technique #2: Eat the right foods
According to Gary Small, MD, director of the UCLA Memory Clinic, memory superfoods include antioxidant-rich, colorful fruits and vegetables, which protect your brain from harmful free radicals. He's also enthusiastic about low-glycemic carbs, like oatmeal, and anything with omega-3 fatty acids. In fact, a recent study published in
Neurology
found that people with low levels of omega-3s had brains that appeared to be a full two years older in MRI scans. That was incentive enough for me to follow the memory-enhancing diet from Dr. Small's book
The Memory Prescription,
which claims it works in just two weeks. Much like the Mediterranean diet, it's heavy on produce, legumes, nuts and fish. It's low on meat, since meat's omega-6 fatty acids may contribute to brain inflammation, a possible underlying mechanism for Alzheimer's. Refined sugars produce a similar effect, so they were also out. (That was the toughest for me.) I ate a farmers market's worth of blueberries, spinach, avocado and beets, and consumed enough fish to sprout gills. I also went beyond Dr. Small's advice and took 2.4 micrograms of vitamin B12, the standard recommended daily amount—since studies show people with low levels perform poorly on memory tests—and 1,000 international units of vitamin D, discovered by Tufts University researchers to boost cognitive function. (My doctor signed off on the supplements.)
My grade: A
It was difficult to eat meat only once a week, until I noticed how much less physically and mentally sluggish I felt. And my memory became markedly sharper over 14 days. (For instance, I quit using a bookmark because I could remember the page number I'd stopped on the night before.) Planning those meals took a lot of prep, but it paid off tremendously. I still try to use the diet as a guideline: I eat meat once a week, aim for five fruits and vegetables a day and pop omega-3 supplements (since I don't get as much fish as I did on the diet).