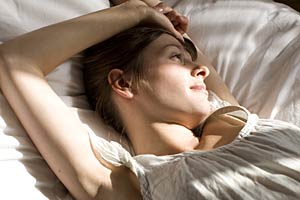 Getty Images
In theory, getting a good night's sleep is simple: Go to bed and wake up at the same times every day, exercise regularly, skip caffeine and booze late at night and ban TVs from your bedroom. These moves can set you up to get the seven to nine hours of rest your brain and body crave, many studies show.
Of course, if you have trouble snoozing, you've probably tried all this and are still tossing and turning. Hang in there: "With more customized advice, I can almost guarantee that your sleep will improve," says clinical psychologist Michael J. Breus, PhD, author of
Good Night: The Sleep Doctor's 4-Week Program to Better Sleep and Better Health.
While we can't march you over to a sleep doctor, we can give you access to top sleep experts—and real-life insomniacs—for out-of-the-box solutions. Here's how to avoid counting sheep or watching 3 a.m. infomercials in the future.