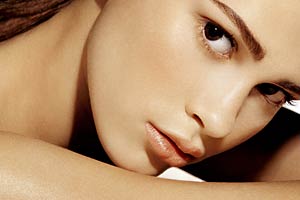 Blaubult-edition.com
I don't remember when I first found out I was a Fitzpatrick Type II. According to the Fitzpatrick Scale, developed in 1975 by a Harvard dermatologist to classify skin types, I'm a fair person who shouldn't have ever tried to tan. (Damn you, bronzed 1980s!) Maybe that's why, in my later 40s, I'm spotty, a little saggy in the cheeks and seeing lines creep in.
Much of this is caused by the environment, mainly ultraviolet rays; it's called extrinsic aging. Other factors are smoking (not in my case), lack of sleep, a poor diet and repeated expressions (guilty!). Intrinsic aging, which happens naturally as skin cell turnover slows down, doesn't help. But I've learned it's never too late to press rewind (I even tried Botox!). Find your own skin fixes here.
I want line-free skin
Sun protection is key, says New York City dermatologist Elizabeth Hale, MD. Use a broad-spectrum block that stops line-causing UVA rays. Then fight back with retinoids, which fill fine lines by boosting collagen, and an antioxidant-rich moisturizer.
Repair recipe:
•
Anti-aging moisturizer with sunscreen.
Peter Thomas Roth Retinol Fusion AM moisturizer SPF 30 ($78;
peterthomasroth.com
) offers sun protection, plus a time-release formula that lets you incorporate line-busting retinol into your daytime routine.
•
Retinol serum.
Retinoids can irritate, so start out by applying just a pea-size dab to your entire face three nights a week, then increase frequency. One that's not harsh on skin: La Roche- Posay Redermic R treatment ($56;
laroche-posay.us
).
•
Heavy-duty night cream.
Skin loses antioxidants (which fight the damage that leads to lines) during the day, so you should aim to replenish them at night. Enter Estée Lauder Advanced Time Zone Night Creme ($70;
esteelauder.com
), with rhodochrosite extract.
The office option:
Injectable botulinum toxins are really the gold standard, but you may also consider Fraxel Restore, a minimally invasive laser that evens fine lines and texture.