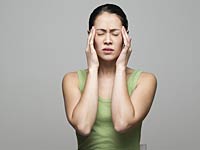 Getty Images
Ninety-nine percent of us will endure a headache at some point—no shocker to migraine sufferers or anyone who has wanted to pull off her throbbing head after a stressful day. "Women are more likely than men to get migraines specifically, possibly because of hormonal triggers," says Stewart Tepper, MD, a headache medicine specialist at the Cleveland Clinic. Happily, there's new information out there about triggers and cures. Follow this expert advice and that pesky pain will no longer be such a...headache.
Problem #1: Tension headache
The lowdown.
Blame stress—which can cause muscle tightness and pain in your neck and head—for this most common kind of headache. Fatigue, a lack of exercise and even infrequent eating can also make your body stiffen up. Experts say some sufferers with overactive pain receptors may be more prone to discomfort.
What it feels like.
A dull pain that stretches across your forehead and/or the sides and back of your head. Pain often increases gradually, beginning around midday. Luckily, says Dr. Tepper, "it's rarely debilitating."
Rx.
Pop a pain reliever, like Advil or Tylenol, at first symptoms, but not more than 10 times a month (you can develop rebound headaches from overuse). To prevent tension pain, exercise regularly, get enough sleep, eat small, frequent meals and practice relaxation techniques, like yoga. Research shows massage eases tension headaches: Rub tender spots on your forehead and scalp with thumb and fingertips, suggests Boulder, Colo., massage and spinal-reflex therapist Maureen Moon. If nothing works, a headache specialist may recommend an antidepressant to regulate pain receptors.