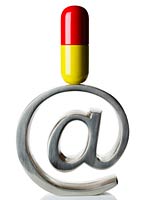 Getty Images
Buying good health has never been easier. These days, you can fill your medicine cabinet, pick up vitamins, and snag a brand-new pair of specs all without leaving the house. This past year alone saw a 15 percent jump in visitors to sites like drugstore.com and walgreens.com. "We're doing it for the same reasons we shop the Web for shoes and books—it's efficient," says John Breyault, vice president of Public Policy, Telecommunications, and Fraud at the National Consumers League. "It also gives consumers unprecedented power, because you can sit on your couch and compare prices." Thing is, you have to make sure you're shopping safely. We've got all the news you need on finding health necessities online and saving money on 'em, too.
1. Know where to go
Happily, nearly every big-box retailer and major drugstore chain has an online pharmacy, and many are expanding their digital presence. Walgreens, for instance, bought drugstore.com and visiondirect.com in 2011, while Walmart has now partnered with 1-800contacts.com. (Yes, it's safe to buy contacts and glasses online; all you need is a prescription and, for frames, your "pupillary distance," a measurement your eye doctor takes.) This trend keeps online pricing competitive, notes Heather Free, a pharmacist in Washington, D.C., and spokesperson for the American Pharmacy Association. Plus, she says, "you know these are brands you can trust." That's crucial, since sketchy sites peddling drug knockoffs abound—which is exactly why you should...
2. Vet any unfamiliar sites
Before you try a drugstore site with a name you've never heard before, consider this: Last fall, the U.S. Food and Drug Administration (FDA) shut down more than 4,000 Internet pharmacies selling counterfeit and unapproved medication. And back in 2010, FDA investigators discovered sites peddling "generic Tamiflu," a product that doesn't exist. Unlike real Tamiflu, which treats flu symptoms, these versions contained the unmarked antibiotic cloxacillin—a life-threatening ingredient for those with penicillin allergies.
"There are still plenty of rogue websites out there selling counterfeit over-the-counter and prescription drugs that look like regular store websites," cautions Brian Liang, MD, vice president of the Partnership for Safe Medicines. Sales of counterfeit contact lenses are also on the rise, according to the American Optometric Association.
For this reason, never buy medication, glasses, or contact lenses from websites based outside the United States—they're not subject to FDA oversight and regulations, Dr. Liang points out. Other safety checks: Look for a VIPPs seal—a voluntary accreditation program for online pharmacies sponsored by the National Association of Boards of Pharmacy—on a drugstore homepage, or enter its name at legitscript.com. And if there's no requirement for a physical copy of your prescription, consider that a big red flag.