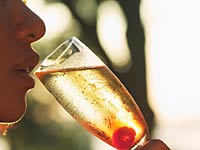 Getty Images
Rule #2: Know that some drinks make you hungrier than others
When it comes to waist-friendly cocktails, the simpler the drink, the better. Not only do the sweet-and-fancy ones tend to have more calories, but the additional sugar can make you even hungrier: Your blood sugar skyrockets higher than it does on beer, wine, or a shot of something, making the plummet (and the resulting cravings) worse.
And then there are the calories! Booze has 7 calories per gram, making it the second-most calorie-dense macronutrient. (That's just below pure fat, which has 9 calories per gram.) This means a measly 1.5-ounce jigger of vodka has almost 100 calories. Mix that up with some club soda and lime, and it's a reasonable tipple, but when you start tossing together a whole bunch of different liquors—whether it's a hipster fizz made with bourbon, elderflower liqueur, and house-made bitters, or a dive-bar Long Island iced tea loaded with vodka, rum, tequila, and gin—it really adds up (to the tune of 300 calories, in the case of a Long Island).
Even simple mixed drinks like rum-and-Cokes and screwdrivers pack extra calories because of the sugary soda and juice. "So if you're going to drink, have something straight up and simple like wine or beer," Dr. Peeke advises. Any wine or beer works, but to trim about 10 calories per glass, choose a rosé or white wine instead of a heavier red. A whole pint of a dark beer is around only 170 calories (compared with 195 for the same amount of regular beer) and may leave you feeling fuller than, say, Champagne, because it's so starchy and rich, Karst notes. Vodka, gin, or bourbon with club soda and a twist are pretty good bets, too. Club soda is calorie- and sugar-free and dilutes the alcohol and its effect on your cravings. Avoid juices, liqueurs (which are sweet and syrupy), colas, tonics, and super-sugary bottled mixes like the ones for a lot of bar-made margaritas and daiquiris.
Rule #3: Stick to a drink or two, tops
One drink a day is the widely accepted definition of moderate drinking for women, but there's a misconception among some bar-hoppers that you can go without alcohol all week and save your seven drinks for the weekend. "That's the worst thing you can possibly do for your weight," Dr. Peeke says. (And, of course, for your health.) "It has a much bigger effect than one drink a day."
When you down three or four drinks in one night, your body has many hundreds of alcohol calories to process before it can continue to break down food calories or stored fat. Plus, all those drinks throw your blood sugar even more out of whack so you're hungry as heck—and because you're tipsy, your prefrontal cortex is misfiring and you now have zero compunction about ordering the fried mozzarella sticks with a side of ranch (and keeping them all for yourself). The extra calories alone are enough to pile on the pounds; have four drinks every Saturday night and you'll be up about 10 pounds in a year.
Rule #4: Beware that gnawing, starving feeling the next day
The morning after poses a new diet challenge. As if a hangover weren't punishment enough, you're fighting cravings for large amounts of cheesy, greasy fast food. Part of the problem is that you're dehydrated (don't forget, alcohol is a diuretic), and that can make you feel even hungrier, Karst notes. But that's not the only thing at play. "The body needs energy to resolve the effects of a big night of drinking, so it wants the richest source of energy it can find, which is fat," Dr. Burke says. "Also, greasy foods tend to settle the stomach a bit."
To avoid that: When you're out, drink a big glass of water for every drink you have. Then, before going to bed, have some more, along with a snack that is high in fiber and protein such as high-fiber cereal or oatmeal, Dr. Burke suggests. "You'll get important nutrients into the body that were lost during alcohol consumption," he adds. "Plus, foods rich in fiber stay in the stomach longer, so you'll be less prone to hunger in the morning." With any luck, you'll also be less likely to overdo it in the a.m., ensuring your figure won't have to pay the price for a night out.