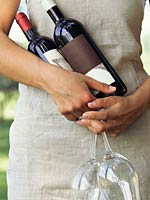 Getty Images
Let's face it, sometimes there's nothing better at the end of a long day than a glass of wine. But sipping much more than that can wreak havoc with your shape, and not just by adding hundreds of calories to your diet. Alcohol temporarily keeps your body from burning fat, explains integrative medicine specialist Pamela M. Peeke, MD, author of
The Hunger Fix.
The reason is that your body can't store calories from alcohol for later, the way it does with food calories. So when you drink, your metabolic system must stop what it's doing (like, say, burning off calories from your last meal) to get rid of the booze.
"Drinking presses 'pause' on your metabolism, shoves away the other calories, and says, 'Break me down first!'" Dr. Peeke explains. The result is that whatever you recently ate gets stored as fat.
What's worse: "Research has uncovered that alcohol especially decreases fat burn in the belly," Dr. Peeke adds. "That's why you never hear about 'beer hips,' you hear about a 'beer belly.'"
So can a girl ever enjoy a drink without putting on pounds? Absolutely, if you imbibe the right way. In fact, large, long-term studies published in the
Archives of Internal Medicine
and
International Journal of Obesity
found that middle-aged and older women who drank moderately (about one drink a day) gained less weight over time than those who never imbibed at all; they were also less likely to become obese.
It's a complex topic, but JoAnn Manson, MD, professor of medicine at Harvard Medical School and co-author of the studies, says that the moderate drinkers appeared to be more likely to compensate for the occasional drinks by taking in fewer calories from other sources and also tended to be a little more physically active. (In other words, they didn't get blitzed on margaritas, then dive in to a bowl of fried ice cream.) What else beyond basic exercise and calorie-counting can keep happy hour from turning into hefty hour?
Health
dug into the research and grilled the experts on how you can have your sips and jeans that still zip.
Rule #1: Always eat when you drink
While the Harvard research suggests it's wise to factor in those cocktail calories, it's actually more important to eat
right
than to eat less, the experts stress. Skimping on food in order to "make room" for drinks will only backfire and send you straight to the bottom of the candied nut bowl. Here's why: Most cocktails are loaded with simple carbohydrates, "so during a night of drinking, people end up with soaring blood sugar, followed by a 'crash' that leaves them ravenous," says Jason Burke, MD, an anesthesiologist and hangover researcher who runs a hangover treatment clinic in (where else?) Las Vegas.
You can help counteract that effect by nibbling foods that provide long-lasting energy. "Before you go out, have dinner or a snack with protein, fiber, and healthy fat," says Karlene Karst, RD, author of
The Full-Fat Solution.
"They stabilize your blood-sugar levels without slowing down your metabolism." Karst recommends Greek yogurt with berries, almond or hemp butter with an apple, or a protein shake. An added benefit of grabbing a bite beforehand, she says, is that that Pinot or appletini will be absorbed more slowly into the bloodstream, minimizing its diet-damaging effects.
In addition to revving your appetite, tippling also makes you lose your eating inhibitions ("I only live once—I'll have the steak frites!"). "It temporarily impairs the prefrontal cortex, the smarty-pants part of the brain that allows you to think clearly and rein in impulsivity," Dr. Peeke says. "So after a certain amount of alcohol (and it's different for everyone), you're going to feel yourself not caring and letting it rip with food and probably drinks." A cocktail (or three) can make you forgetful, too—as in, forgetting that the Death by Chocolate dessert is not on your eating plan.
The trick is to have an easy-to-follow strategy in place before you take that first sip. Scout out the bar or restaurant menu ahead of time and note your picks on your phone. Then set an alert to remind you to order wisely—that way you won't have to think too much (or rely on that alcohol-impaired prefrontal cortex!) to stay on track.
As with your pre-partying meal, go for something with fiber, protein, and a little bit of healthy fat to help control blood-sugar levels and make you feel satisfied, Karst says.