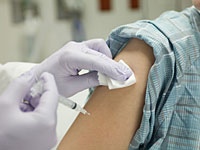 Getty Images
You knew it was coming: Flu season's back, and there's no telling how mild or wild it will be (remember swine flu?). "The severity of each season is unpredictable," confirms Karen K. Wong, MD, an epidemic intelligence service officer at the Centers for Disease Control and Prevention (CDC).
Same goes for ye olde common cold, which also strikes this time of year. But thanks to scientists who are constantly working to learn the best ways to fight germs and build a better flu shot, it's gotten easier than ever to protect yourself. Follow their advice, and this could be the year you don't get sick.
Get a flu shot (pronto!)
Flu season runs from October to May, so if you haven't gotten jabbed, now's the time. "The vaccine takes anywhere from two to four weeks to take effect, and it lasts for at least six months, so if you get it now, you'll be primed for the flu's peak in January or February," says Andrew Pekosz, PhD, associate professor of microbiology and immunology at Johns Hopkins University in Baltimore. The CDC recommends that everyone 6 months and older get it. About 200,000 people are hospitalized with flu-related complications each year, and thousands die. In fact, as many as 18,000 people in the U.S. are estimated to have lost their lives to the H1N1 epidemic of 2009.
Women may be more likely than men to end up in the hospital with severe flu symptoms, notes Sabra Klein, PhD, an assistant professor of molecular microbiology and immunology at Johns Hopkins University who researches sex differences in infectious disease. That's because our bodies mount higher immune responses to germs.
A quick refresher on how the shot works: Every year, CDC scientists figure out which strains of influenza are most likely to run rampant based on data from the previous flu season, then put dead forms of those strains into the vaccine. When you get the shot, your immune system produces targeted antibodies to beat those specific viruses—that way you'll be pre-equipped to fight off the live germs if you come in contact with them in the real world.
The vaccine is at least 60 percent effective—no, not 100 percent, but "even if you do get the flu after being vaccinated, your symptoms will likely be less severe because of the partial immunity you've built up," says Cornelia Dekker, MD, a professor of pediatric infectious diseases at Stanford Medical School. You might have a sore arm or redness after getting the shot, but that's your immune system's response to the vaccine; you can't actually get the flu from the vaccine. (Note: The shot can cause a reaction in people allergic to eggs, so if that's you, talk to your doc before getting it.) To avoid soreness altogether, ask for FluMist, the needle-free nasal spray vaccine (unless you're pregnant, over 50, or have a chronic condition like asthma—the spray isn't yet approved for those folks).