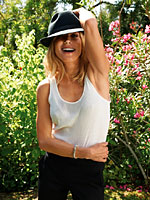 Yu Tsai
Julie Bowen pulls into a parking lot off California's Pacific Coast Highway driving a less-than-spotless black Prius. Wearing yoga pants, a hoodie, and a fleece vest, the ponytailed, super-fit 42-year-old has arrived from the set of
Modern Family
's fourth season. An avid runner, Julie—mom to Oliver, 5, and 3-year-old twins, Gus and John—has chosen to talk while we do a moonlit hike in the Pacific Palisades.
"As it gets darker, you won't even need a flashlight," she explains. Should we be freaked out? "No," she says, loaning me a fleece vest belonging to her husband, software developer Scott Phillips. "If we see a mountain lion, we'll turn and walk away real quick-like. Or do we make ourselves big? I can't remember," she laughs. "But we'll have fun."
As she narrates our trek ("Did you see that spider? Get down low!"), she shares the other ways she lives life to the fullest—all yours to steal.
Find the funny in your days
"I hate to admit how juvenile I am, but one of the things that always makes me laugh, besides [my co-star] Ty Burrell—the funniest person I've ever met—is damnyouautocorrect.com. Parents trying desperately to text and it's coming out all wrong? Holy crap, is that funny. I'll have tears streaming down my face."
Laugh off criticism
"Ty and I were talking about this ridiculous [
Modern Family
contract]renegotiation business. He and I are—how shall I say?—thrifty people who cringe at the world thinking we're, like, fancy people. I said, 'I don't want anybody asking me about my golden toilet.' And he goes, 'Yeah, or your fur sink.' I started laughing uncontrollably. A fur sink is the best visual!"
What makes me body-confident
"I definitely feel really good if I've gone for a run or I've been at the beach all day."
How I keep fame from going to my head
"I've had some very funny moments. I once called a restaurant, and they were like, 'Sorry the wait list is three months. What's your name?' I said, 'Julie Bowen.' They were like, 'Ah! Julie Bowen from TV?' And I said, 'Yes, can I get a table?' And they were like, 'No!'"
My feel-good cocktail
"I've recently discovered tequila, thanks to my friends who are north of 35. Good tequila makes you feel different. According to Doctor Google, my favorite doctor, it acts in your central nervous system in a different way [than other forms of alcohol]. If I have a glass of wine, and I'm a little bit tired, I'm ready to go to bed. But if I have a little tequila on the rocks, and I'm a little tired, I'm not more tired. I'm kind of thinking, maybe we should go do something...."