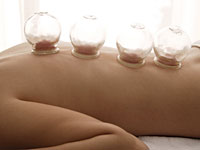 Getty Images
Has your doctor ever prescribed you salt therapy or maggots? Maybe not...yet. Respected physicians, including ones at top medical schools like Harvard, have been rediscovering the power of ancient cures.
"A decade ago there weren't Western studies on these treatments, so most doctors dismissed them as quackery," notes Woodson Merrell, MD, chair of the department of integrative medicine at Beth Israel Hospital in New York City. But with a flurry of research proving their potency, many MDs have been won over.
No one's saying you should give up regular meds or doctor visits. On the contrary: Many work best when combined with traditional medical care. (You should always inform your doctor if you're receiving one, to make sure it doesn't overlap with other treatments.) "The future of medicine is integrative," Dr. Merrell says. "It incorporates all the best therapies, from antibiotics to acupuncture."
The evidence behind these four may surprise you—and cure what ails you, too.
AcupunctureWhat it could do for you:
Relieve pain, ease itching from eczema, help heal knee and shoulder injuries, and treat everything from migraines to asthma. Some studies suggest acupuncture could even help people lose weight, quit smoking, boost fertility, and lift depression, although the research is not as strong on those benefits.
How it works:
Chinese practitioners have long revered the treatment for keeping energy flowing through the body (and warding off illness). From a Western perspective, "acupuncture is believed to stimulate the nervous system, which activates changes in the brain we're still trying to pinpoint," says Vitaly Napadow, PhD, a professor of radiology at Harvard Medical School. Practitioners insert needles into the skin at strategic points. Although you may feel small pricks, it generally doesn't hurt.
What the research says:
This therapy has undergone the gold standard of scientific testing—randomized, controlled, double-blind studies—and the National Institutes of Health (NIH) deems it effective for dozens of conditions, notably pain relief.
Want to try it?
Sessions (you'll need at least a few) can cost anywhere from $60 to $120, and some insurance carriers cover it. Ask your doc for a referral, or find a licensed practitioner at
nccaom.org
.