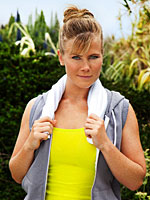 Jim Wright
"I'm a creature of habit," says Alison Sweeney, laughing, as she orders her favorite chopped salad (with tuna and extra cucumbers) for lunch—again.
It's a habit that's obviously working for her because Alison, beaming in a bright white tee and hot-pink bouclé blazer, looks the picture of happy health today. Not only has this host of
The Biggest Loser
shed the baby weight twice (she has two kids—Ben, 7, and Megan, 3—with her husband, Dave), but she also ran the Los Angeles Marathon in March and is training for the Malibu Triathlon this month. Her secret for getting into enviable shape? Making positive choices every single day. "Each time you make a healthy choice, it's easier to make the next one," says Alison, who's 35. It's not about achieving a perfect body, she adds, but "being the best
you
you can be today." Trust us: Adopt her clever ideas—one a day, every day this month—and your best will look pretty darn good.
Eat like a kid all day today
"Kids don't eat fast. They take their time; they talk and laugh. Sometimes it's really annoying, because you're like, 'Come on, it's bedtime!' But try it: You'll fill up before you know it, because it takes 20 minutes for your brain to know your stomach is full."
Pack your own snacks this a.m.
"When I started eating healthy for my first bathing suit photo shoot [after giving birth to my daughter], I carried around a plastic bag of red and yellow bell pepper slices, cut up like carrot sticks, along with cucumbers and cantaloupe. Anytime I was hungry between meals, I'd snack on them."
Try a new multitasking move
"There's a flow to the Hindu Squat, so it gets your heart rate going, but it's about balance, too, because when you're down at the bottom, you're on your toes, then you're moving through the pose again."
Slather on some slimness before you head out the door
"We [apply bronzers] on
Days of Our Lives
a lot. I use Scott Barnes Body Bling lotion. It's almost like body makeup, but it's really sheer and there's a little sparkle in it. It looks good on everybody."
Have the same breakfast every day this week
"I eat oatmeal six days a week. It's not that I don't like variety—if I have time, I love to make an omelet—but I'm always in a hurry in the morning and steel-cut oatmeal with agave and cinnamon allows me to go through my day without thinking about it. And then if I'm going out to dinner or a special opportunity comes up—for instance, my husband and I went wine-tasting in Napa—I can spend those calories on something special, rather than waffles for breakfast."
Wear fitted workout wear at the gym
"The reason there are mirrors is because you should look at yourself, evaluate how you're standing, and make sure you're doing [each exercise] right! So wearing close-fitting clothes is a way to set a good mental tone of, 'OK, I'm here to do business and I'm going to get it done.'"